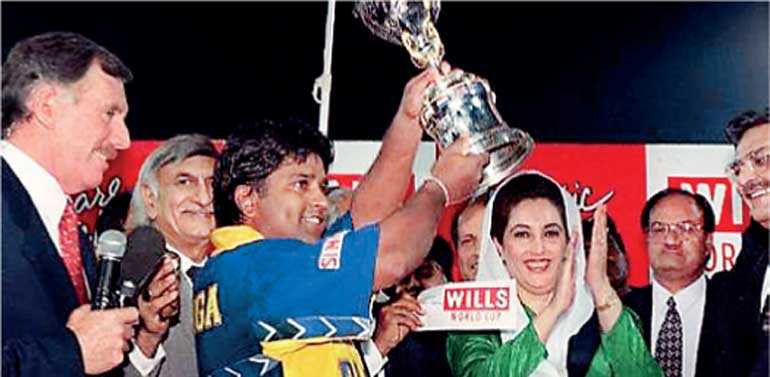 The District Court of Colombo has dismissed a case filed by 'Captain Cool' Arjuna Ranatunga alleging that Airtel had violated his right to privacy when the mobile telecom firm had used the picture of the famous 1996 World Cup victory trophy presentation ceremony in the company's TV commercial.

Colombo District Court Judge T.D. Gunasekera held that no injury or damage had been caused to Ranatunga's reputation through the use of the footage from the 1996 World Cup Final award ceremony in a TV commercial broadcast in 2010.

Minister Ranatunga filed a case against Bharthi Airtel Lanka Ltd. seeking damages of Rs. 500 million.

Ranatunga's complaint was that Airtel had used the iconic photograph of the 1996 World Cup Final award ceremony in Lahore, Pakistan when the Wills Trophy was presented to Sri Lanka and he was invited to accept the trophy on behalf of Sri Lanka.

Ranatunga claimed personal rights to that image and that through the use of that image without his permission, Airtel had violated his right to privacy. He also claimed that since he was a person who was against sportsmen appearing in TV commercials, the use of that footage injured his reputation and persona since it would be assumed that he was paid for appearing in that TV commercial.

In dismissing Ranatunga's action, Judge T.D. Gunasekera held that Ranatunga had no personal right to the footage; he appeared in a representative capacity on behalf of the Sri Lankan national cricket team and the entire country, there is no possible way in which a reasonable person would assume that Ranatunga was acting in the TV Commercial since it was the live and publicly available footage that was used; the footage was used to deliver a positive message to the public and not merely commercial in nature; and the footage was public in nature and etched in the memories of all Sri Lankans.

The judge also took note of Ranatunga having appeared in an anti-corruption TV commercial broadcast by the Indian mobile telecommunication company IDEA during the 2011 World Cup tournament and his evidence in that regard. Ranatunga's reluctance to answer questions was also noted.

Ranatunga was represented by attorney Athula Bandara Herath, with Shashika de Silva, Asha Ranasinghe and Madubhashini Rajapakse, instructed by Prasad Sirimanne.

Airtel was initially represented by Prasanna Jayawardena, President's Counsel with Milinda Jayatilaka instructed by D.L. & F. de Saramand, subsequently, by Geethaka Goonewardena with Milinda Jayatilaka and Chanaka Weerasekera instructed by D.L. & F. de Saram.