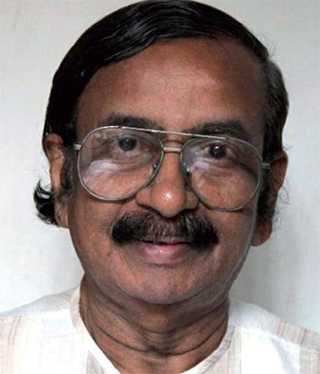 Prof. Nimal de Silva
---
We feature below the first segment of a detailed three-phase interview with renowned scholar/veteran theory and practical based knowledge specialist on Lankan heritage, Prof. Nimal de Silva.

He has held many prestigious positions such as being the Director of the Postgraduate Institute of Archaeology and supervised many PhD. programs on Archaeology and Traditional Heritage and was instrumental in initiating a postgraduate program on Heritage Studies. He has served as the senior professor in the Faculty of Architecture in the University of Moratuwa, and was the Director for the Centre for Heritage and Cultural Studies as well as the National Design Centre.

As Chairman of the Urban Development Authority for nearly four years he initiated the declaration of Colombo Fort as a conservation area. As Chairman of the National Design Centre, he promoted traditional craft persons and their skills drawing on his inherited in-depth knowledge on arts and crafts. He has served as the Director Conservation in UNESCO Sri Lanka Project of the Cultural Triangle. Pertaining to the Maligawa Complex in Kandy he was responsible for the conservation of related historic buildings, the Devala Complex and the Malwatta Vihara and Asgiriya Vihara Complex.

He has used Lankan heritage for promoting cultural cohesiveness. He personally collected the shreds of the stained glass windows at St. Paul's Church in Kandy that was totally destroyed by the LTTE bomb blast and restored it to perfect former order, being subsequently honoured by a special thanksgiving Mass by the Catholic clergy affiliated to the church.

He has authored around 14 books relating to Lankan culture and heritage.

Following are excerpts of the interview:
---
By Surya Vishwa
---
Q: There are many theories on heritage. How would you describe the word 'heritage'?

Heritage means all what you have inherited from earth to your personal genes. Heritage has two basic parts;

Natural heritage and cultural heritage. Cultural heritage is also divided into two, as intangible and tangible.

All tangible heritage objects are created to support and fulfil intangible heritage requirements. Tangible heritage can be movable or immovable.


Q: You are from a family of traditional medical experts. Could you elaborate?

My grandfathers and great grandfathers were Singhala Vedamahttayas. They treated the sick without any fee. They were given a bulath atha and kevili bandesiya for the new year. My maternal great grandfather knew five languages; Singhala, Pali Sanskrit, Tamil, and English. He knew Sinhala Vedakama, Astrology, Manthra Sasthra, and was also a musician who wrote and staged plays. In the 1870s villagers in Southern Province started building new Buddhist viharas creating a great demand for artists to do temple painting for which he has established a school of painting with two traditional masters. Heritage scholar, L.T.P. Manjusri has identified them as Welithara Sittara Paramparawas.

As children every morning we had to take lunukenda before having any breakfast. If anybody is sick and this rarely happens – but on the very few occasions sickness overcame us, my parents called Piyasiri Vedamahattaya, one of our relatives who was the last one in our family to practice traditional medicine. He never asked a fee and whatever our parents gave he accepted without even looking at what was offered. Overall, my parents knew all basic treatments. My mother was an expert at this and she would narrate the Sinhala poetic version of how the cure is described traditionally when administering the cures.


Q: You have not revealed your exact age as such and I am not asking it but it is amazing that you look so much younger than some of your students who are retired professors in their seventies! What's your secret?

I follow my traditional lifestyle I grew up in, in the south of the country (Boosa). I believe the mind and our worldly actions are inter-connected to the final outcome of one's physical health. I follow the Dhamma. In all the official positions I have held I have not taken even a single cent outside my salary.

Generally, I eat all tun velama bath (all three means rice), have a peaceful mind and aware of pera pin ethi bava (past merit) and keep awareness at all times on the consequences of each and every one of my actions.


Q: You are known for political impartiality; a rather rare trait, don't you think?

I have held many positions under many governments and I have exercised my duties impartially doing justice to my country.


Q: Have you ever been overwhelmed by any entity?

No.


Q: Could you comment on what we should be mindful of today when putting our medical heritage in practice?

During the colonial occupation we were brain-washed and convinced that what is Sri Lankan – local or traditional are inferior and no good. They will teach what is good and bad. The elites and the English-educated swallowed it. For any traditional thing to be accepted it has to be proved to the west using western science. Ingutu, kottamalli veniveigeta that we used for thousands of years is being analysed even by our universities to prove it to the west. What for? We were trained and taught to reject and have doubt on our traditional knowledge systems.


Q: Could you comment on the similarities or differences between Indian Ayurveda and Sri Lankan Deshiya Chikitsa (Singhala Wedakama)?

As far as I know Ayurveda and Desiya Vedakama are basically based on similar principles. But our Lankan medical system is simple and with a lot of speciality and family based with many variations. We are yet to do a systematic compilation of traditional medical practices currently prevailing in the country. If we compile our traditional medical systems, we would be in a

position to create a unique Hela medical system. We have not done this for seven decades.


Q: Generally, it looks as if we are tourists in our own country.

No, there is a difference. The foreign tourist knows our culture better than us.


Q: Could you speak of your knowledge of the Chinese example of using traditional medicine alongside modern treatments?

In China one-fifth of the world population practice their own Chinese medicine but advance their medical production system and research. They have a well-advanced packaging and marketing system. More than everything, Chinese have confidence in their medicine.
---
(To be continued next week.)
---