PM as Chief Guest at Interbrand-Daily FT Best Sri Lankan Brands Awards expresses confidence private sector can
compete internationally but must change mindset
Understanding branding key to performing well in the global market
Embracing competition would be "deliverance" of SL from debt and other challenges
FTA with Singapore next year, China to follow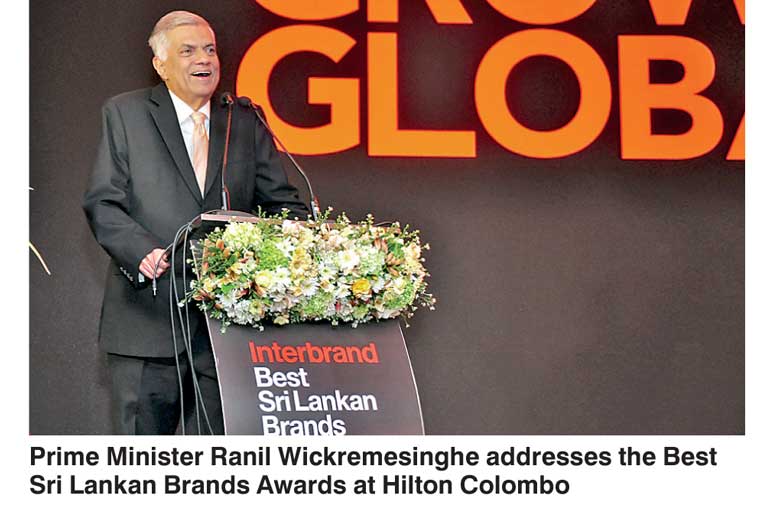 By Uditha Jayasinghe

An exuberant Prime Minister Ranil Wickremesinghe last night struck an optimistic note throwing his support behind the private sector insisting local companies had the capacity to compete and win globally, and calling on them to embrace competition as it was the "deliverance" of Sri Lanka's growth challenges.

Speaking at the inaugural Best Sri Lankan Brands Awards ceremony as its Chief Guest, Wickremesinghe was effusive in his praise for the top 20 brands crowned by Interbrand. The pioneering initiative was spearheaded by Interbrand, the world's largest and most influential brand consultancy, in partnership with the Daily FT.

The launch of Best Sri Lankan Brands was indicative of the strength of the country's homegrown corporates and a growing understanding among business leaders about the significant role brands play in enhancing business performance, the Prime Minister noted.The inclusion of Sri Lanka in the Interbrand catalogue of countries is a chance for local companies to be on the global stage.
"Let us look at competition as the key to our deliverance. You compete and survive or you compete and go down. I know Sri Lankans and if they compete they will survive. We have already survived so much, surviving competition is not difficult," he said.

"I have confidence that we can go forward. I have no doubt that given the environment, given the policies, given the framework, we can do the job. So this is the opportunity. We should not have another occasion for someone to come and show us that we have missed this opportunity as well. We have come to the make or break occasion, let's make it," he told the gathering.

Wickremesinghe, who was in an affable mood, quipped, "I believe in branding and we always say the UNP is the best brand for Sri Lanka," to laughter from the audience. Referring to the Bank of Ceylon, which topped the rankings, as well as People's Bank and National Savings Bank (NSB) which also bagged awards in the top five, he said: "I am happy the three State banks have come one, two and four but that does not mean you can avoid the restructuring."

"The fact that you are having Interbrand here is a good sign. It is a sign that our enterprises are becoming more competitive, they are conscious of the need to compete, and more so the State companies," he said, striking a more serious note. The Prime Minister recapped the reform challenges before Sri Lanka and emphasised that branding would give Sri Lankan companies an edge in global markets.

"It is a proud occasion to have Interbrand here with us and to be available to you. Without branding you have no chance in the global market. Branding is necessary and once you understand the value of branding then you are ready for competition. This is the major mental adjustment that we in Sri Lanka have to make: that you must compete to survive and you must compete to grow."

Drawing from the presentations made by the Interbrand team that dwelt on Sri Lanka's missed growth opportunities, the Prime Minister had some tough messages to back his words of support.

"We missed the opportunities that many of our Asian partners did not in capitalising during crucial moments after World War II. We were a country that was on par with Japan at the very beginning but we seem to have missed the bus on every occasion. What we are doing now is to seize the moment when the Indian Ocean becomes the growth area of the world. We cannot miss this chance. If we miss the chance we will always be put down just two points ahead of Afghanistan. But if we are brave and we go ahead we can become the hub of the Indian Ocean. What did we miss in the earlier stages? What is it that we have to catch up? I don't believe in catching up. You just leapfrog, see where you are."

Sri Lanka could use its geographical location and other attributes to tap into the growth that is happening around it, the Prime Minister said, highlighting the economic growth and population expansion of countries in Asia and Africa. He insisted that the Government would forge ahead with its economic plans, which include signing a Free Trade Agreement with Singapore early next year, followed by one with China.

"The Indian Ocean has just started its growth scenario. From Pakistan to Bangladesh, from Indonesia to Southeast Asia, on our western side all the way down the South Africa, all these are countries that are growing. Sri Lanka is situated in the middle of the Indian Ocean. It is not merely the development of the countries around us but there will be two large economic movements. One is the Chinese One Belt One Road, which you have heard of, and the other that is coming into being is with Japan and India - the Asia- Africa growth corridor - and here we are in the middle of it.

"We should grasp this occasion. It is time for technology, it is time for semi-automation, time to think anew."
The inaugural winners of Best Sri Lankan Brands Awards are 1) Bank of Ceylon, 2) People's Bank, 3) Dialog Axiata, 4) Commercial Bank, 5) HNB, 6) NSB, 7) Lion, 8) Sampath Bank, 9) John Keells Holdings, 10) Elephant House, 11) Cargills, 12) SLT, 13) Hayleys, 14) Cinnamon Hotels and Resorts, 15) Hemas, 16) Ceylinco Insurance, 17) LB Finance, 18) Dilmah, 19) Aitken Spence, and 20) Rocell.
The Best Sri Lankan Brands 2017 Awards event's Gold partner was CHEC Port City Colombo and other partners were the Export Development Board, Colombo Stock Exchange, Sri Lanka Ports Authority, SriLankan Airlines, Hilton Colombo, Business Class, OfficeMax, Citrus Events and Classic Funtime.