Tripartite task force meeting decides companies need to inform Ministry of need to pay pro-rate salaries
Pro-rate wages were introduced for workers not reporting to work
Agreement to be in force till year end
---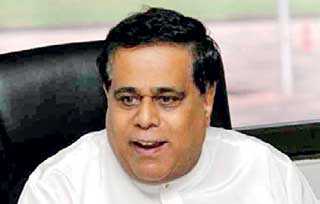 Labour Minister Nimal Siripala de Silva
---
The Labour Ministry yesterday said companies paying pro-rate wages had to notify the Ministry of why they were facing cash flow issues and get permission to initiate paying partial salaries to employees not reporting to work.

Earlier this year a tripartite COVID-19 task force, which included the Labour Ministry, Trade Unions and the Employers Federation reached an agreement for private sector employees to be paid the highest of either 50% of the total salary or a minimum of Rs. 14, 500.
The task force, which met yesterday decided that pro-rate wages should only be paid to employees who do not report to work, according to a statement released by the Ministry. Labour Minister Nimal Siripala de Silva had also directed that companies who have faced cash flow disruptions and are unable to pay their workers' salaries have to notify the Labour Ministry to obtain permission ahead of giving pro-rate wages. "During the discussion it was brought to the attention of the Minister that in many construction sites Health Committees are yet to be established, despite it being outlined in the government's COVID-19 guidelines. The Minister had instructed Ministry officials to check with working construction sites on whether Health Committees have been established and to also monitor the implementation of other social distancing measures that have been mandated by the state," the Ministry said.

At the end of October, Cabinet extended the pro-rate salary agreement till December. A compromise was reached in May when the Government appealed to the private sector to avoid laying off people as a result of the COVID-19 economic slowdown. Under the new extension, the payment, which was earlier extended till September, will now last till the end of the year. Initially the payments were to be made only for May and June.

In early May, the Employers' Federation of Ceylon (EFC), the Trade Unions and the Ministry of Skills Development, Employment and Labour Relations reached a tripartite agreement to pro-rate wages based on varied levels of deployment of staff.

The agreement reached was on the basis that there can be a distinction between the payment of wages in respect of employees who performed work and those who had to be 'benched' (without any work). This arrangement was aimed at addressing situations where companies will not be able to bring in the entire complement of the workforce due to restrictions that have been imposed on account of health concerns.

The scheme was applied to pro-rate wages in respect of employees who cannot be deployed at work simultaneously due to health restrictions. Members were encouraged to rotate workers wherever possible and give as many opportunities for employees to resume work and supplement their livelihoods under this scheme.