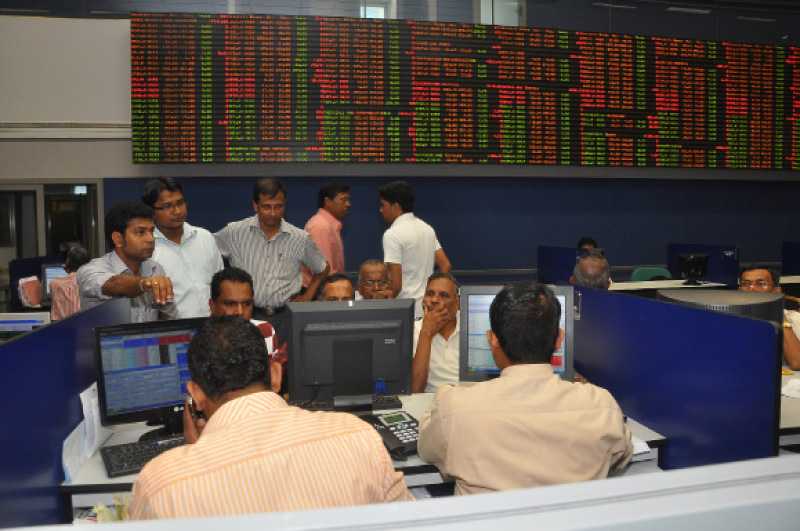 ---
YTD turnover at Rs. 259 b already higher than annual of past five years
With over 2 months more to go, 2020 lags by Rs. 82 b to overtake 2014 figure of Rs. 341 b
Oct. nets Rs. 41 b turnover so far on the back of Rs. 50 b in Sept.
Brokers hoping benchmark ASPI to revert to 6,000 point level and end YTD negative return at 3%
---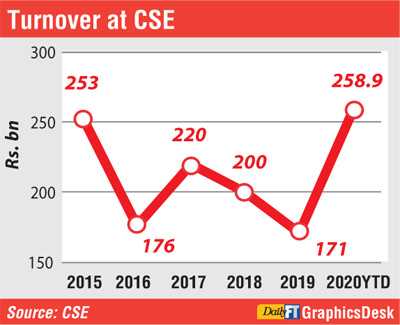 The Colombo stock market, which has remained resilient despite local and external shocks linked to the COVID-19 pandemic, is setting sights on new records this year.

Year to date turnover of Rs. 259 billion is already higher than annual figure CSE managed in the past five years. Last week it overtook the 2015 figure of Rs. 253 billion.

With over two more months to go for 2020, analysts are hoping the year will surpass the stellar 2014, which produced Rs. 341 billion. The latter will require the CSE generating Rs. 82 billion turnover for rest of 2020.

The bullish stakeholders of capital market are optimistic based on October month to date generating Rs. 41 billion turnover (of which Rs. 21.4 billion came last week) on the back of Rs. 50 billion in September. October is already credited with Rs. 5 billion turnover twice last week, with CSE enjoying such a feat for a day way back in January 2020.

CSE's all-time high turnover was Rs. 570.3 billion, achieved in 2010, whilst 2011 produced Rs. 546.2 billion. The chances of 2020 overtaking those figures are removed given the fact that this year, trading hours have been shortened, whilst the market also lost 32 trading days due to COVID-19.

Stakeholders are also hoping the market will return to year to date positive territory in terms of the benchmark All Share Price Index (ASPI). Similar expectations were there a fortnight ago but the second wave of COVID-19 in Sri Lanka dashed such hopes. As of last week, the ASPI was negative 3%. The ASPI closed Friday at 5,945 points, and brokers hope it will surpass the physiological 6,000 points this week. The ASPI's highest point for the year was 6,111 whilst the lowest was 4,247.

The more active S&P SL 20 Index faces a more daunting challenge, as it is negative 19% year to date.

First Capital said the market closed the week in green, recovering almost 90% of fresh COVID-19 wave losses amidst heavy retail activities.

Acuity Stockbrokers said equities reversed previous week's losses as buying interest in mid-cap stocks pushed the benchmark index back into positive territory despite the rising number of COVID-19 cases and the IMF estimating that Sri Lanka's economy could contract by 4.7% this year.

Consequently, the Bourse ended the week on a positive note as the ASPI increased by 147.07 points (or

2.54%) and the S&P SL20 Index increased by 21.93 points (or 0.93%).

It said Expolanka Holdings was the largest contributor to the week's index gain, as the ongoing rally in the stock led to a gain of 28.1% W-o-W. Expolanka saw 194 million of its shares traded for Rs. 3.3 billion, and continuing its record setting streak, established a new 52-week high of Rs. 19 before closing at Rs. 18.70 up by Rs. 4.10.

Acuity said buying interest in Dipped Products and its parent, Hayleys, also collectively contributed 20.1% to the index gain during the week.

"Strong retail-driven momentum in select mid-cap stocks, including EXPO, TKYO and GLAS, subsequently pushed turnover levels to its highest on record since January," Acuity said. "Better than expected earnings from GLAS's September earnings release propelled the stock to record the third-highest turnover on the Colombo Bourse for the week," it added.

It also said select construction material-related stocks also contributed to the week's turnover amid a

circular by the Finance Ministry with amended procurement guidelines aimed at supporting local industries, including local construction and construction-related manufacturers. According to Acuity, local HNI and institutional investor participation remained relatively muted last week as crossings accounted for a mere 5% of total market turnover, as against 18% in the previous week, dominated by buying interest in energy sector stocks PAP and VPEL, which accounted for 68% of total crossings this week.

The only negative feature at CSE is the sustained net foreign selling, which year to date stood at Rs. 43.8 billion. Last week, net foreign selling was Rs. 1.2 billion as against Rs. 2.1 billion in the previous week.