The innovative CodeGen Team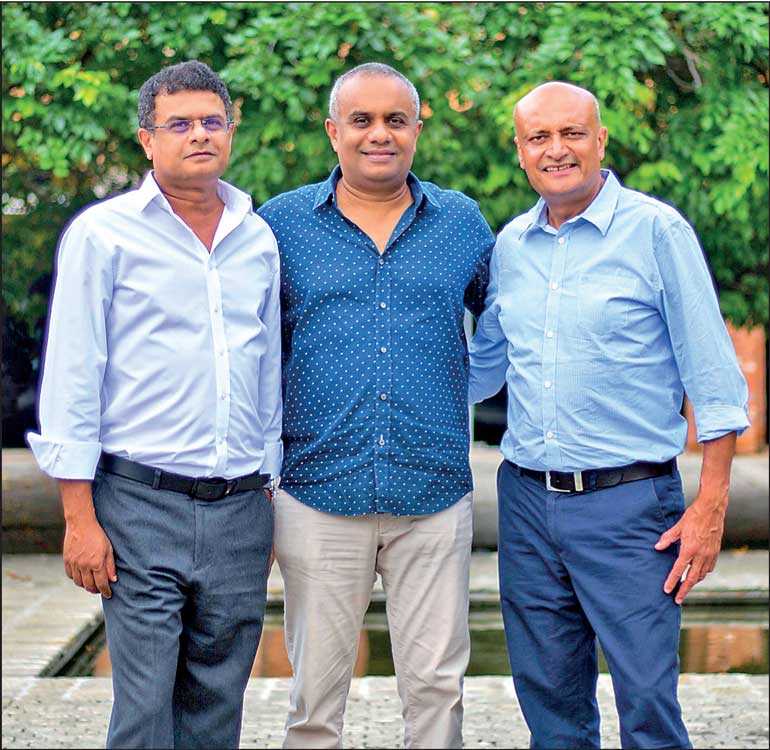 The founders of CodeGen (from left): President - Legal and Operations Kusal Subasinghe, Founder and Chief Executive Officer Harsha Subasinghe, and President - Sales, Marketing and Commercials Bharat Patel
---
CodeGen, a globally-recognised technology powerhouse, marks 20 years of innovative excellence, offering its high-performance technology to over 20 countries in five continents.

Founded by President - Legal and Operations Kusal Subasinghe, Founder and Chief Executive Officer Harsha Subasinghe, and President - Sales, Marketing and Commercials Bharat Patel, together with the senior management of CodeGen, are spearheading disruptive innovations to optimise businesses across 10 emerging industries.

With offices in the UK, the USA, and Sri Lanka, the repertoire of local and international customers partnered with CodeGen is testament to the company's commitment for continuous innovation over the years.

CodeGen remains largely ubiquitous and unparalleled due to its high-value IP product portfolio utilised by the very best in the world to extend services to millions of consumers in a number of sectors, including the travel and tourism sector.

CodeGen's flagship technology solution, TravelBox, is today a world-leading business transformation platform used by blue-chip travel and tourism companies. TravelBox product suite offers an end-to-end intelligent travel technology solution for tour operators, airlines, DMCs, cruise lines, resorts and attractions powered by artificial intelligence (AI) to optimise the online customer booking journey.

The company diversified into new industries in the year 2013 to focus on AI and mechatronics. This led to the birth of sought-after brands, such as Vega Innovations, FLAIR, Cloud Smart School, chargeNET, AiGROW, and many more. Vega EVX, South Asia's first supercar that was showcased at the prestigious Geneva International Motor Show this year, is also a venture pioneered by CodeGen.

CodeGen Group Chief Executive Officer Harsha Subasinghe stated: "We believe in disruptive transformation where curiosity, passion and innovation are key attributes we need to change the world. Our teams have patently transformed billion-dollar companies globally, and we will continue to take many more home-grown brands to the international arena. I am proud of the 600 brilliant minds that work hand-in-hand over the years to design and engineer our purpose-built proprietary innovations. We dreamed, we pioneered, and CodeGen's journey continues."

"Our ability to invest in disruptive innovations is sustained by the exponential organic growth of CodeGen itself. This flexibility invigorates creativity and we are all about taking considered risks to be the best at what we do," Subasinghe further stated.

Inspired by a hyper-creative generation, CodeGen is one of the largest private-sector investors in AI and multidisciplinary developments in Sri Lanka. The company has been one of the changemakers in mitigating brain drain in the country.

CodeGen also initiated the first-of-its-kind industry-academia with leading local universities known as QBITS to offer fully funded Ph.D.'s to encourage the youth to design, engineer and innovate high-value IP products that solve real-world requirements.

From travel to automotive, education, transportation, agriculture, retail, energy and autonomous technologies, CodeGen is transforming the technological landscape to address the needs of tomorrow's world.