Multiple campaigns implemented by hospitality chain following 4/21 is spearheading a hard-earned and expedited recovery of the island as world's top travel destination
In just four months following the horrifying terror attacks that threatened to derail the fast flourishing tourism industry of Sri Lanka, a strong recovery strategy implemented by key industry players such as Cinnamon Hotels and Resorts has enabled the sector to effectively address and avert an emergent crisis.

Spearheading this revival, the hospitality chain has initiated a number of campaigns; an encouraging celebrity video with VIP guests who have graced Cinnamon over the past few years, internationally renowned celebrity destination ambassadors such as former Miss Sri Lanka, Jacqueline Fernandez and Miss World, Manushi Chhillar, an innovative destination campaign 'Bring a Friend Home' to engage all Sri Lankans in the revival of the industry, the Future of Tourism (FOT) Summit featuring famed CNN correspondent Richard Quest, and the first-ever Cinnamon Wellness Retreat.

While strategically driving forth these multiple campaigns, promotions and initiatives within a short period of time, Cinnamon yet again put Sri Lanka on the world map by bagging a coveted PATA Gold Award this year, ensuring Sri Lanka remains well-positioned in the minds of tourists as a destination with wonderfully diverse experiential offerings and most importantly, as a safe place to travel.

"First and foremost, the support and love Sri Lanka received soon after the attacks from across the globe was truly reassuring and promising," stated John Keells Group Leisure Sector President Jit Gunaratne. "We received truly uplifting messages from celebrity guests that Cinnamon hosted throughout the years, urging and encouraging us to show the world our true Sri Lankan spirit."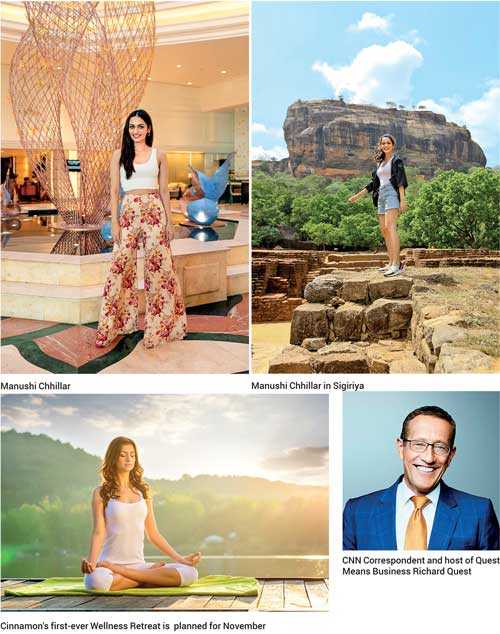 Projecting a positive image

To first project a positive image of the country, Cinnamon proceeded to create a video featuring comments by these international celebrities hosted by the hotel chain, calling on the world to visit Sri Lanka.

The heart-warming video produced by Cinnamon in collaboration with the Sri Lanka Tourism Board as part of the 'Love Sri Lanka' campaign saw celebrities such as celebrated chefs Nigella Lawson and George Calombaris, world famous musicians such as Shaggy and Joaquin Quino McWhinney of Big Mountain sharing their love and support went viral within a few days.

The feedback, engagement and response to the celebrity video led Cinnamon to further engage with popular celebrities as destination ambassadors to promote Sri Lanka, among them Miss World 2017 Manushi Chhillar, and former Miss Sri Lanka and famed Bollywood actress Jacqueline Fernandez.

"Our top source market over the past decade has been India, and our main objectives through strategic partnerships with destination ambassadors was to further penetrate our key Indian demographic. The Cinnamon celebrity program was architected to reassure tourists that Sri Lanka is once again a safe destination for travel. Celebrity content also sheds light on the wide array of attractions in Sri Lanka that can be experienced and explored," John Keells Group Vice President, Cinnamon Hotels and Resorts Head of Brand Marketing and Cinnamon Life Mall CEO Dileep Mudadeniya elaborated.
Manushi Chhillar

Chhillar was first to visit Sri Lanka in July, courtesy of Cinnamon, and toured across the country with visits to multiple Cinnamon properties and major local attractions. The video of Chhillar's Sri Lankan escapades garnered over 4.1 million views and engagements across her Instagram, Twitter and Facebook and nearly 360,000 views and engagements on Cinnamon's Facebook, Instagram and YouTube handles.

With 5.7 million followers on Instagram and almost a million followers on Facebook, the former Miss World was instrumental in increasing the sharing and engagements for Sri Lankan-based content across multiple digital platforms following her statement, "It's no wonder Sri Lanka is ranked as the best island in the world and the No. 01 travel destination for 2019."
Jacqueline Fernandez

Jacqueline Fernandez visited Sri Lanka in August to kick off Cinnamon's Bring a Friend Home (BAFH) campaign, an innovative promotion that gives Sri Lankans an opportunity to invite friends from all over the world to experience the hospitality of home-sweet-home.

Sri Lankans were called to nominate foreign friends to visit Sri Lanka on the official website www.bringafriendhome.com where invitations can be sent to foreign friends abroad from 30th July – 15th December 2019 for stays within the same period.

Fernandez's participation in the campaign to celebrate her birthday in Sri Lanka with 15 of her friends and family generated nearly 20 million unique views and engagements on her Facebook, Instagram and Twitter. On her Instagram account alone, her posts reached nearly 17 million engagements, with close to 3 million engagements on Facebook.

With a following of 31.7 million, Jacqueline's video of the trip was received most positively on Instagram – a testament to the incredible reach and impact that celebrity participation in the campaign has and will continue to have.

The visits of Manushi Chhillar and Jacqueline Fernandez garnered much publicity through the Public Relations network across India through several mediums such as television, print, social media and online.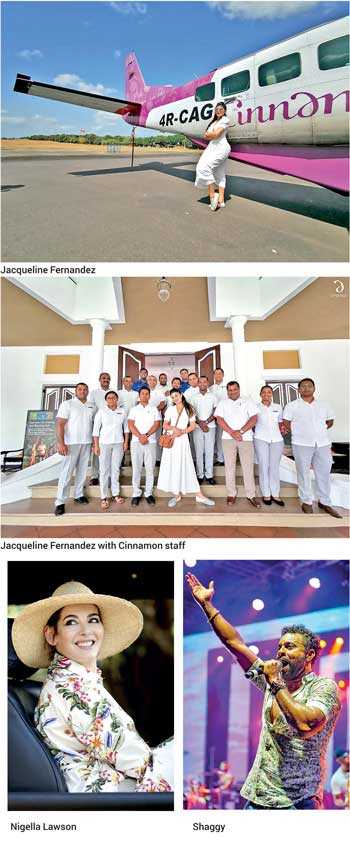 Hospitality trendsetter

"Cinnamon has always strived to be a hospitality trendsetter by using digital marketing strategies as well as the latest trends in influencer marketing and this campaign is a clear indicator of the sheer impact that celebrity endorsements can have," Mudadeniya continued.

The steady industry revival has been further strengthened with Cinnamon clinching the Prestigious Pacific Asia Travel Association (PATA) Gold Award for Heritage and Culture for the Guru Gedara Festival, Sri Lanka's first immersive traditional performing arts experience held in collaboration with the John Keells Foundation and the Chitrasena Vajira Dance Foundation (CVDF). This was the only Sri Lankan entry to be recognised by PATA in 2019.

Cinnamon has also been shortlisted for the International Travel & Tourism Awards 2019 (ITTA) under the Best Digital Campaign in Tourism category for the Travel Blogger Conference Asia (TBC Asia) – a pioneering digital strategy implemented to enhance Cinnamon's digital footprint across the global tourist market.

With 60 travel bloggers from around the world communicating near real-time destination and brand-based content, Cinnamon reached over 5.5 million followers across Facebook, Twitter, Instagram, YouTube and travel blogs, resulting in over 20 million unique digital impressions.
'Future of Tourism' summit

The continued progress enabled Cinnamon to host the third edition of the 'Future of Tourism' summit (FOT 2019) to be held later this month, under the timely theme 'Challenges and Growth in the Face of a Crisis'.

This year's event will feature an exclusive line-up of speakers including Richard Quest – CNN Correspondent and host of Quest Means Business, Anita Mendiratta – Special Advisor to the Secretary General, UNWTO, and other top global destination experts, to share their specialist knowledge and insights on how tourism industries can implement sustainable strategies to recover and rebuild following a period of crisis.
Cinnamon Wellness Retreat

As a result of such continued efforts during the past four months, Cinnamon was proud to announce the first-ever Cinnamon Wellness Retreat planned for November this year. This promotional campaign paves the way for Sri Lanka's tourism industry to move forward with a progressive vision, safely anchored to the legacy of hospitality, healing and self-discovery on an enchanted paradise isle. The immersive 10-day program will be launched at Cinnamon Lodge Habarana, reassured of a stabilising industry and promise to reconnect with Sri Lanka's world-renowned experiential tourism vertical.

"We as industry leaders have understood the role and responsibility of Cinnamon in the most perplexing of times, and stepped up to the challenge. Our teams were working full days, seven-day weeks to ensure that our industry, and not just our properties were getting back on track. Our main objective over the last four months and in the coming months will be to propel forward and continue with our campaigns to recover Sri Lanka's tourism industry, and support all stakeholders and communities that are still dependent on it for their livelihoods. I'm humbled by the amazing response and steadily increasing tourist numbers. The world is definitely falling in love with Sri Lanka all over again, and Cinnamon is proud to be part of the revival."

The Cinnamon Hotels & Resorts chain comprises of 14 distinct hotels and resorts located in key areas across Sri Lanka and the Maldives. The brand embodies a passion for inspired living and promises holistic and enhanced experiences that are tailor-made to suit the specific interests of travellers. The Cinnamon brand focuses on delivering memorable holidays and getaways that deliver exceptional standards of service whilst showcasing the warmth and vibrancy of contemporary Sri Lankan hospitality.