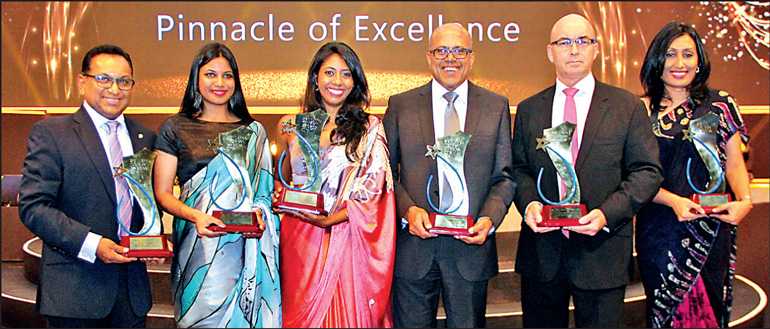 From left: Nature Trails Head Chitral Jayatilake, Manager Communications Lucille Diaz, Assistant Manager, Customer Relationships Nishara Johnpillai, General Manager Cinnamon Red Colombo, Derm Terrance Fernando
Cinnamon Hotels & Resorts were the Big Winners of the night
---
Cinnamon Hotels and Resorts swept away six awards at the Sri Lanka Tourism Awards 2018 held recently where they were recognised for the unique initiatives that contributed to the hospitality industry. Cinnamon was the only brand to win more than two awards in all categories which were intensely fought by all leading leisure brands in the country.
The Sri Lanka Tourism Award 2018 honoured organisations and individuals for their contribution towards Sri Lanka's tourism industry and Cinnamon was rewarded for excellence in the six categories; The Best Tourism Promotion Campaign, The Best Print Media Presentation on Travel & Tourism, The Best Five Star City Hotel, The Best 3-Star Hotel, The Best Themed Cuisine Restaurant, and The Best Conservationist/Naturalist Award.

Dileep Mudadeniya, Vice President John Keells Group, Head of Brand Marketing, Cinnamon Hotels & Resorts and CEO Cinnamon Life Mall stated, "We believe in creating experiences outside of our core requirement as a hospitality group to present Sri Lanka as the destination for travel for more reasons than one. Sri Lanka, while being known as a tropical island, should now be elevated to a place to visit for entertainment and destination events such as weddings and simultaneously be known as a socially responsible destination. The brand Cinnamon aims to set new standards to hospitality in the country in order to create a unique proposition for Sri Lanka as an island that offers a myriad activities for the international visitor."

Cinnamon has invested in creating benchmarked tourism offerings for visitors by promoting unrivalled arts, culture and entertainment experiences such as the critically acclaimed productions of iconic global musical hit The Sound of Music and Mamma Mia!, revolutionising Colombo into fast-becoming the entertainment hub of South Asia.

The Cinnamon Magazine, a bi-monthly lifestyle magazine, received the award for the Best Print Media Presentation on travel and tourism. The magazine shares incomparable encounters and living experiences across multiple verticals such as travel, trends, art and culture, nature and wildlife, gastronomy, events and entertainment, driving the vision of Cinnamon Hotels & Resorts for Inspired Living.

Cinnamon Island Weddings won the award for the Best Tourism Promotional Campaign, as it was the first-of-its-kind promotion that disrupted the global destination wedding industry with a viral, 100% online marketing campaign, going on to penetrate the niche and booming global romantic tourism market. With close to 400 entries by deserving entrants, the competition saw the winning couple together with 48 of their family and friends celebrate their once-in-a-lifetime experience at one of Sri Lanka's most iconic resorts, Trinco Blu by Cinnamon.

Chitral Jayatilake, Head of Nature Trails, the award-winning eco-excursion and wildlife conservation arm of Cinnamon Hotels & Resorts was recognised as the Best Conservationist and Naturalist at the Awards. Starting off as an avid nature photographer, he facilitated many international productions to document Sri Lanka's rich biodiversity including the BBC's famed Blue Planet II, guiding Nature Trails into becoming a globally acclaimed operation taking Sri Lanka to the world.

Cinnamon Lakeside Colombo walked away with award for the Best 5-Star Hotel in the Sri Lankan hospitality industry and was recognised for its trendsetting initiatives and for achieving overall excellence in unparalleled standards in product and service, corporate values and sustainable practices.

Cinnamon Red Colombo was awarded the Best 3-Star Hotel, an acknowledgement of its strategy to cater to the demands of the new age travellers – the new millennials, who are in constant pursuit of unique experiences, combining innovation and affordability for a relaxed uncomplicated stay. Due to its strong brand presence, especially in the South Asian region, it provides a unique experience for its guests.

Nuga Gama received the award for the Best Themed Cuisine Restaurant. It is Asia's first carbon neutral venue, a distinct Sri Lankan restaurant at Cinnamon Grand Colombo built around a 200-year-old banyan tree, surrounded by wattle and daub huts and traditionally dressed staff who also help run this communal tribute to Sri Lankan life. The venue comprises dining areas, an open kitchen, a localkade (grocery store), an ambalama (a historical resting place for travellers) and a farm, creating an incomparable dining experience to locals and foreigners.

Cinnamon Hotels & Resorts is a chain of 12 distinct hotels and resorts in Sri Lanka and the Maldives with a passion for style and a penchant for fun. The diversity of the Cinnamon way of doing things means it has unique experiences in each of the hotels from rooms on the beach to rooms in the ocean and views of the city, the jungle and horizons. Cinnamon is the largest operator of star-class hotels with a portfolio of over 2000 rooms divided among the three city hotels and nine resorts situated in prime locations in Sri Lanka and the Maldives.