First SME and third party logistics firm to list on CSE's customised Empower Board
To offer 25% stake or 7.5 million shares via IPO at Rs. 7.50 per share
Issue up for grabs from today, officially opens on 27 April
Says decision to list aimed at raising Rs. 56.25 m collateral-free capital, expanding biz and further improving corporate governance
CSE's CDS to be registrar of an IPO first time via Chrissworld
Manager to the Offer and Sponsor Atarah Capital Partners says pioneering move to encourage other like-minded SMEs to go public
---
By Nisthar Cassim
---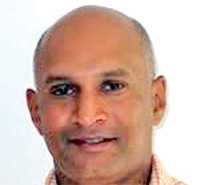 Chairman Christo Perera
---
Little known Chrissworld Ltd. (CWL) is creating history by becoming the first small and medium enterprise (SME) and third party logistics firm to boldly go public via the Colombo Stock Exchange's customised Empower Board.

The company is offering 25% stake or 7.5 million shares at Rs. 7.50 each in a bid to raise Rs. 56.25 million, to expand and modernise its growing logistics business as well retire debt.

The CSE yesterday announced it has approved an application by Chrissworld for the listing of its shares by way of an offer for subscription on the Empower Board, introduced two years ago but non-ventured on to thus far. The pioneering initiative was spurred by a dynamic and experienced logistics team at Chrissworld led by Chairman and Executive Director Christo Perera, Managing Director/Chief Executive Officer Niranjan Suraj and Manager to the Offer and Sponsor Atarah Capital Partners Ltd., led by founder and Managing Director and capital market specialist Rohan Senewiratne.

The parent Company of CWL is Chrisslogix Ltd., which currently holds 96.66% of ordinary voting shares of the company.

Set up in 2012, CWL is engaged in the provision of third-party logistics (3PL) services. Over the years, it has provided professional services, primarily in warehousing, inventory management, distribution/transportation and value-added services, to corporate clients in different industry verticals, as well as to individuals that require such services.

Owning warehouse space of 500,000 square feet via 13 units in the Western Province, CWL's main industry verticals served are telco, manufacturing, fabric and textiles, pharmaceuticals and agriculture.

Currently ranked among the top five companies providing professional warehouse solutions, and aiming to extend end-to-end total services, CWL hopes to use the Rs. 56.25 million raised via the IPO to install racking systems (Rs. 15 million), purchase machinery for warehouse operations (Rs. 6 million), purchase movable racks (Rs. 6.5 million), purchase new Warehouse Management System (WMS) software (Rs. 2.5 million) and part settle borrowings of Rs. 9.6 million, with the balance Rs. 14.2 million as future working capital. In the first 10 months of FY21, revenue amounted to Rs. 201 million and pre-tax profit was Rs. 7.8 million. As at end FY20, assets were Rs. 90.6 million and as at 31 January 2021 it had grown to Rs. 105 million.

"We want to take Chrissworld to its next growth phase. Logistics is a capital intensive business and given the growth potential for professional warehousing solutions, zero-cost capital helps as against collateral-based and high cost bank funding," said CWL Chairman Christo Perera, who previously served at Hayleys for 20 years before starting on his own. The company is also seizing the 2021 Budget incentive of enjoying 50% concession on income tax if listed before 31 December 2021.

The group operations include freight forwarding, customs clearing, transportation and warehousing. With new funding, CWL is aiming at strengthening its operations to include end-to-end solutions to corporates, last-mile delivery and also storage facilities to individuals – a market which is expected to boom with the onset of vertical living.

With advice from Atarah Capital Partners, CWL has seen its stated capital increase from Rs. 6 million to Rs. 22.5 million over two years and post-IPO it will further increase to Rs. 76 million. With the latter, CWL can also negotiate for better terms from banks if debt is needed for further expansion.

CWL employs 23 directly and another 60 indirectly, and with envisioned growth the number will increase to 35 and 75 respectively.

Managing Director and CEO Niranjan Suraj, formerly of Hayleys Plc and also counts over 20 years in logistics, said that in warehousing quicker and higher throughput matters along with margins. "With new capital infusion and improvements planned we are confident of higher growth," he added. Overall, logistics and warehousing business has grown during and post-COVID, and given the positive future outlook for the socio-economic growth, CWL also plans to pursue Build, Operate and Transfer (BOT) when expanding its warehouse footprint in the future. Chairman Perera said a more planned and Government-supported logistics park will be the best way forward to ensure sustainability and efficient reach within the country, as Sri Lanka becomes a true logistics hub in South Asia.

Senewiratne said all parties have taken lot of care in the preparation to list, ensured extensive disclosure and improved good corporate governance. "We saw clear leadership and commitment at CWL. With their experience and proven track record in logistics business, we see lot of promise," Senewiratne said. The company is moving from a debt to equity structure with improving net margin, he added.

The Empower Board was initiated by the Securities and Exchange Commission and the CSE two years ago to encourage listing by high potential SMEs. Companies need only two years of operating history and positive net assets in the latest year prior to the IPO and a minimum stated capital of Rs. 10 million pre-IPO and Rs. 25 million post-IPO whilst cap is Rs. 200 million.

CWL will also see the CSE's subsidiary Central Depository System Ltd., (CDS) functioning as the registrars to the IPO for the first time.

Chrissworld Board of Directors are Christopher A. M. Perera (Chairman, Executive Director), S.A.D. Niranjan Suraj (Managing Director/Chief Executive Officer), Sithira Wickramasekera (Senior Executive Director), Shanaka Lansakara (Executive Director), D. Dilan L. Nanayakkara (Non-Executive Non-Independent Director), Melanga A. Doolwala (Non-Executive Independent Director) and Rohan Ladduwahetty (Non-Executive Independent Director).