Assures sovereign interest of SL despite negative critiques on security issues
Govt. pursing Japanese and Indian funds for Hambantota and Port City projects
Believes FDIs will help SL to repay debts


By Charumini de Silva

China's Belt and Road Initiative (BRI) will be a massive economic opportunity for Sri Lanka, assured Prime Minister Ranil Wickremesinghe, while also allaying concerns surrounding the country's sovereignty.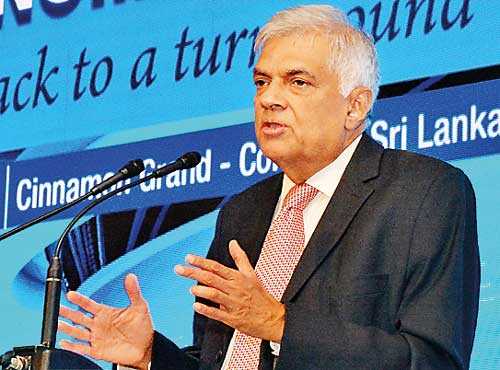 "As long as we do not allow security issues to come in, there should not be a problem with BRI. We have told this to the Chinese Government and they appreciate it. Both countries are looking at BRI as an economic project," the Premier said, during a panel discussion at the closing session of the Sri Lanka Economic Summit last week.

He pointed out that while for many countries the BRI has mainly been a project to fund infrastructure, Sri Lanka he explained has moved beyond that and reached the next stage - that of reaping economic benefits.

"We have done the infrastructure, we have gotten the Hambantota Port going as a public private partnership (PPP) with China Merchants and Sri Lanka Ports Authority (SLPA). Now we have got to focus on attracting foreign direct investments (FDIs) similar to Colombo Port City," he said.

The Premier also emphasised that the Government is keen on pursuing Japanese and Indian investments in these key major projects.

"Let us focus on these two projects, which is the next stage of bringing in FDIs to the country. Let this be a start. We are not stopping anyone else. It will make Sri Lanka that much more attractive," he stated.

Meanwhile in reference to Sri Lanka's outstanding foreign debts - roughly $ 50 billion - which were incurred in building up the country's infrastructure, he said they were relying on meeting necessary FDI targets in order to service them. And while some 10% of the debt is owed to China, Wickremesinghe noted that a majority of it has been incurred via international sovereign bonds, which he said is a more pressing concern in terms of repayment.