The Ceylon Index Fund (CIF) that invests in blue chip, liquid companies listed on the Colombo Stock Exchange (CSE) has emerged as the top performing Unit Trust out of all 78 mutual funds in Sri Lanka during the first half of 2017.

The fund reported a performance of 15.57%* during the first six months of 2017. The ASPI gained 8.33%** during the same six-month period. CIF is classified as an open-ended Equity Index Fund by the Unit Trust Association of Sri Lanka (UTA).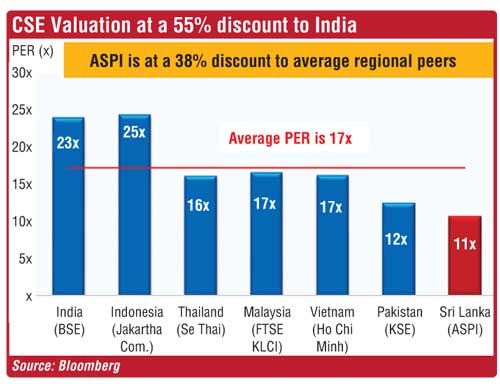 The fund portfolio tracks the top 10 index companies, consisting of large market capitalised, liquid (high turnover) companies listed on the CSE. The index currently consists of JKH, CTC, Commercial Bank, Dialog, HNB, Hemas, Ceylon Cold Stores, Melsta Corp, Chevron Lubricants and TJ Lanka.

"The CSE is currently valued at a Price Earnings (PE) ratio of 10.75x, which is less than half the valuation of India."

"The current low valuations due to political uncertainty is a buying opportunity for Sri Lankan investors. Foreign investors are actively investing in blue chip shares at present," says Ceylon Asset Management Managing Director Dulindra Fernando.

Meanwhile, the Ceylon Money Market Fund that lends to investment grade, rated corporates over the short term reported a 11.42%* (annualised) return during the 1H of 2017.

The Ceylon Dollar Bond Fund that invests in dollar denominated SL Sovereign and Bank Bonds, reported a performance of 5.43%* (annualised) in dollars during the first half of 2017. The fund has been awarded a B+ international dollar rating by Fitch Ratings that mirrors Sri Lanka's country rating.

The funds are managed by Ceylon Asset Management while Deutsche Bank is the Trustee and Custodian of the fund. Ceylon Asset Management is an associate company of Sri Lanka Insurance Corporation.