Sri Lanka's largest private sector bank Commercial Bank celebrates its centenary this year. Its emergence to the top and sustaining that position for several years now has been widely respected within the financial services industry and outside. Tracing what led to its success over 100 years is a daunting task, but the progressiveness of Commercial Bank amidst myriad challenges tells it all.

Its Managing Director and CEO S. Renganathan being with the bank for 40 years is a credible source to obtain some key insights into the character and culture of Commercial Bank. According to Renganathan, each of the past Chairmen, Managing Directors, Board members and senior management has contributed to the growth of the bank over the 100 long years.

In this interview with the Daily FT, Renganathan stresses that customer-centrism whilst being cost conscious has been the key pillar of Commercial Bank's success along with the in-built team culture. The bank's focus on continuous enhancement of value to all stakeholders including employees and shareholders has shaped the success of Commercial Bank as well.

Renganathan singles out the decision to go overseas starting from Bangladesh in 2003 as a game-changer for the bank.

Considered by insiders and customers as a passionate yet pragmatic banker, Renganathan's humbleness despite heading the largest and most profitable private sector commercial bank stands out.

His pragmatism is well reflected from his message for 2020 to the bank's staff – 'Fail fast and learn fast': "This is key in a fast-paced dynamic world amidst digital disruptions and other risks. It is not about being perfect or avoiding failures but taking the initiative, proactive implementation, if failed ensure to learn fast." Last year's message was 'Be the first and best'.

In this interview, Renganathan recaps some of the recent year-milestones of the bank, the future focus and how the bank has responded to customers impacted by the COVID-19 pandemic. Following are excerpts:
---
By Nisthar Cassim
---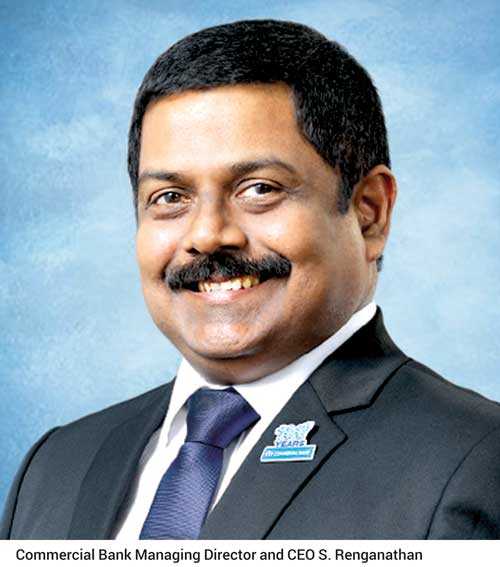 Q: What would be the five key milestones in the recent history of Commercial Bank?

The most important one was in 2003, when the Commercial Bank successfully ventured overseas to Bangladesh. We were the first private sector bank to do so. It was a big challenge. Thanks to the then management team for the initiative. Thereafter in 2016 we moved to the Maldives and in 2018 to Myanmar.

The second milestone was in 2008 when the Commercial Bank entered the prestigious list of Top 1000 banks in the world.

The third was the launch of the fully-fledged digital banking account in 2018.

The fourth I would say was in 2018 when we pioneered relationship management to the SMEs by launching 'Biz Club,' where SME entrepreneurs based on their excellent track record are invited to the Club.

The fifth is more recent, when the bank secured $ 50 million long-term funding from the International Finance Corporation (IFC) and launched a scheme for Rs. 10 billion for the revival of businesses by COVID-19-affected export sector SMEs, preferably women-led and owned.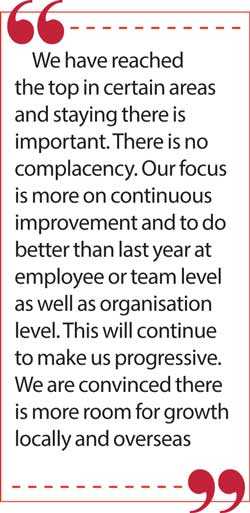 Q: What was the rationale to go overseas?

Since 2000 we were looking for the expansion of the bank outside the Sri Lankan economy to benefit from new opportunities as well as spread our risk of being reliant solely on the local economy.


Q: Commercial Bank, given its roots to Eastern Bank, has traditionally been more aligned to corporate banking, trade finance, etc. What has been the focus on the SME sector?

From the mid-1970s we began branching out and since early 2000 we went on an aggressive expansion. In 2001 we had only 100 branches and by 2011 we doubled it. Currently we have 268 branches. This was done realising the growth potential for Commercial Bank and the need for supporting SMEs and entrepreneurs countrywide by a progressive private commercial bank.

I would say in the second 50 years of Commercial Bank there has been a greater focus on SMEs. Regularly we have come up with tailor-made products to serve the needs of the SMEs. About 10 years ago approximately over 30% of our advance portfolio was on SMEs and it has come down to around 25-28%. This is partly because the growth in the SME segment is lower than the corporate. When we deep dived on this issue, we found that most of our SME clients have been successful and graduated to corporate banking. Given this successful transformation of our customers in recent years we have stepped up our efforts to serve more SMEs, including going to their doorstep rather than expecting them to come to our branches.

We are also empowering SMEs with entrepreneurship skills development, enhancing their financial literacy and management capabilities, etc. Additionally they are being enabled via automated and technological platforms. The relationship management emphasis on SMEs via Biz Club is our most bold new initiative. This has been

commended by external consultants. Benefits include priority service, special rates, networking and continuous business development support and opening new opportunities including sponsoring participation at international trade fairs or conferences. We no longer take notice of a customer only when or after he defaults, but remain with them at every step as they progress or navigate various challenges whilst extending support.

The Biz Club initiative is perfected with a specialised team at the centre via a customer-centric dashboard regularly assessing the status and progress of the SME member, identifying their financial or other support requirements in advance. The proactive support is thereafter extended via the respective branches. This is not a status upgrade but prioritised and early analysed financial and advisory support where needed.

Going forward the bank intends to guarantee cheques issued by Biz Club members. Membership is by invitation and within the first year of operation, we have approximately 4,000 members in the Biz Club. This is our value offering to good SME customers, who are greater.

With the support of global external consultants we are on course to expand the offering for SMEs and increase their share of the business within the bank to 30% in five years and to 35% in the long-term.

We also have SME-focused and trained dedicated staff members in each branch as part of this thrust. SME loan disbursements are fast-tracked with centralised processing and approval.


Q: Is this SME focus because it gives a 'feel good' factor or do you perceive that the bank must extend genuine support in the interest of entrepreneurs and the nation?

We are not SME focused purely for commercial reasons or for that matter as 'feel good' factor. As the largest private sector commercial bank, it is our responsibility to support SMEs, thereby contributing to the development of the economy and the country. Our aggressive focus and support for the SMEs is largely from an economic development and social responsibility context.

We are also mindful of the risks involved in our SME focus and we have included prudent risk management practices and processes accordingly, which makes our commitment and role more sustainable. So we are both aggressive and careful in our SME thrust. We are also focused on serving more women-owned/led SMEs as part of our commitment to support gender diversity and empowerment with a dedicated manager spearheading this initiative.


Q:What is unique about Commercial Bank and what makes it different?

Several factors make us unique and different. Customer-centrism is foremost. From day one, our staff are trained on providing delightful service to our customers. We have become the number one bank purely because of this mindset, culture and emphasis.

When it comes to banking, diverse customers have different expectations and at branch level we take cognisance of this and serve and satisfy the customers accordingly. Our goal is to ensure no customer leaves unsatisfied or disappointed. We take very serious note of every customer's need and take necessary and swift action on any service lapses. Six years ago we implemented an automated platform for loan approvals and in this we have predetermined timelines to ensure efficiency. Being automated, this can be easily monitored and action taken if needed.

The team at Commercial Bank and the internal culture are unique and differentiate us versus the rest in the industry. The third is our staff is trained to be cost conscious and focus on cost management. The fourth factor is the focus on continuous enhancement of value to all stakeholders including employees and shareholders.


Q:To be service oriented or customer-centric and cost conscious at the same time is very challenging. How do you manage it?

We tell the staff to focus on cost factors which they can or have control of. In this, wastage if any is one key aspect. We have improved efficiency and convenience for customers via automation, digital platforms and process improvements, thereby reducing cost. We have also taken a number of green initiatives.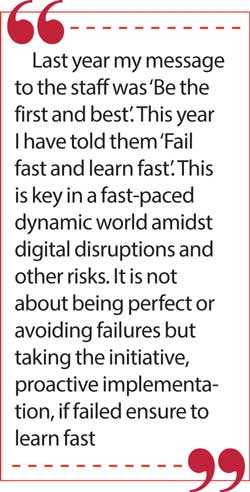 Q:What are the key pillars of Commercial Bank's success?

Firstly, the in-built team culture within our staff which is close to 5,000. The other is the attention to compliance; thirdly, focus on prudent risk management. The fourth is customer centrism.


Q:When and what were the turning points for Commercial Bank that led to its transformation?

Each of the past Chairmen, Managing Directors, Board members and senior management has contributed to the growth of the bank. Many have admitted, and I too agree, the turning point was during the long period of leadership of the top combination – Mahendra Amarasuriya as Chairman and Amitha Gooneratne as the Managing Director.

Via bold, visionary and pioneering decisions they sowed the initial seeds for the transformation of the Commercial Bank. They brought out-of-the-box thinking. Gooneratne brought in a performance-driven culture to the bank, formal corporate plan and budget preparation. His initiatives plus the support from the Board ensured how best Commercial Bank could be taken to the next level.

Incidents or policy-wise, liberalisation of the economy in 1977 was a big turning point for the Commercial Bank, being traditionally strong on trade financing and corporate banking, etc. And the other is of course our decision to go overseas, starting from Bangladesh.


Q:What was the game changer for Commercial Bank?

Going overseas, certainly. Today 20% of our earnings comes from overseas operations and this has strengthened our resolve to look at new opportunities overseas, both in markets where we have a presence and new countries/regions. My aspiration is to make Commercial Bank 'a world class regional bank'.



Q:What signifies Commercial Bank in the banking industry? What is its biggest contribution to the industry?

We have taken riskier investments or played a pioneer role among private banks in supporting certain sectors. One example is renewable energy. Another is overseas lending to our corporates who have operations in foreign countries. Our service standard is a benchmark. We are said to be very conservative in a positive sense.


Q:What is the credo for your team/staff?

Last year my message to them was 'Be the first and best'. This year I have told them 'Fail fast and learn fast'. This is key in a fast-paced dynamic world amidst digital disruptions and other risks. It is not about being perfect or avoiding failures. but taking the initiative, proactive implementation, if failed ensure to learn fast.


Q:What's next in terms of overseas expansion?

We will continue to look for new opportunities in both existing markets and new ones. We have good experience in acquisitions as well as green field operations, having set up business anew, for example in the Maldives. We hope we can have our next overseas move during or before the end of 2021.

Region-wise we are exploring South Asia where we see a cultural fit and where there are opportunities for our banking expertise, where we can deliver efficient and effective solutions. If we increase our earnings from overseas operations to about 25%, we will be a regional bank. We are also looking for the right acquisitions in Sri Lanka as well, as we have the financial capability and the appetite. Our new forays however must be feasible to be actioned.


Q: What does it take to stay at the top and what is the future focus?

We have reached the top in certain areas and staying there is important. There is no complacency. Our focus is more on continuous improvement and to do better than last year at employee or team level as well as organisation level. This will continue to make us progressive. We are convinced there is more room for growth locally and overseas.

Customer requirements are changing and in line with our customer centrism, we will continue to focus, better serve customers with appropriate new products within broader segments of Retail, SMEs and Corporate. Use of new technology such as AI and Robotic Process Automation are being harnessed in these initiatives, including a new team dedicated to focus on big data. Apart from the Digital Banking Team, which has an external customer focus, we recently set up an Operational Excellence Unit, which is focused on internal processes.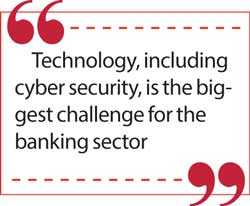 Q:How does it feel to be the Managing Director during the bank's centenary year?

I am the 10th MD at Commercial Bank of Ceylon. I am happy and privileged with humility to be leading the bank in its centenary year with a dynamic and dedicated team which is committed to take the bank to higher levels. I must thank all my predecessors, past Chairmen and Board members and staff for their untiring efforts and for bringing the Commercial Bank to what it is today. We are all proud members of the Commercial Bank family.

I like to thank customers, regulators, shareholders and State officials for supporting to build a strong Sri Lankan bank with a growing regional presence. We are happy with our success and our contribution to date in building many successful entrepreneurs and corporates and being their financial partner. We are also proud of having been a development partner in Sri Lanka as well as overseas countries where we are operating. I am also personally happy that in the centenary year the team came up with a bank anthem to further foster solidarity. Being a regional bank, the anthem is in English and it was sung first on 11 January at the staff convention.


Q:Being with Commercial Bank for 40 years, who were your inspirations and role models?

My past bosses, starting from Edgar Gunatunga followed by Amita Goonerate, Ravi Dias and Jegan Durairatnam, former Chairman Mahendra Amarasuriya and current Chairman Dharma Dheerasinghe and the Board, etc.


Q:What keeps you going daily?

My love for the Commercial Bank team and making customers happy.


Q: How has the banking sector fared in recent years?

There have been tough times for the industry since 2018. We have had IFRS coming, plus we had the Debt Recovery Levy (DRL), which impacted the banking industry. We had the unfortunate tragedy of Easter Sunday in April of 2019 and now the world is facing the coronavirus outbreak.

In tandem with sentiments on the economy, demand for credit has been low as well. Overall the environment for banks has been very challenging. Nevertheless, the sector has successfully managed to pass through the period complying with IFRS and BASEL III and performed well amidst challenges. We have also retained a fair amount of foreign shareholding in the banks. So overall all banks have remained resilient.


Q:What is the biggest threat for the banking sector?

Technology, including cyber security, is the biggest challenge for the banking sector.


Q: Your comments on the level of banking sector regulation?

I am satisfied with regulation, but there can be improvements, especially in enabling digital initiatives faster.


Q: The new Government early this year extended big support to the banking sector via tax cuts and the removal of levies as well debt moratorium for SMEs. Your views?

All these initiatives are highly welcome, especially the removal of DLR and WHT on SLDBs, which will have a beneficial impact and boost foreign investor confidence. Support for revival of SMEs to kick-start the economy is positive. SMEs need to take the relief in good spirit and revive their businesses, thereby safeguarding jobs and supporting economic growth. This will avoid SMEs facing a fresh crisis.


Q: How has the bank responded to the COVID-19 pandemic in terms of supporting customers?

We have extended a debt moratorium to the value of Rs. 332.5 billion. It includes Rs. 174.5 billion under the Central Bank supported scheme and a further Rs. 158 billion outside the Central Bank scheme. If you take the number of customers, it amounts to 53,238, comprising 38,362 at retail level and 14,876 at corporate level. We continue to support our customers proactively during very challenging times.

Additionally, under the first phase of the Central Bank-initiated concessionary working capital support, we have submitted over 4,000 applications worth Rs. 19.6 billion. Many have received this support, whilst more will get their working capital in tandem with Central Bank approval and customers completing the required documentation.

As a progressive bank, we also launched unique payment relief schemes for individuals and corporates. Solutions include flexible payment options, extended moratorium periods, debt consolidation plans and further reduction on credit card repayments and applicable interest rates.


Q: What is your outlook for the economy?

I am confident of the revival of the economy later this year if not from next year despite the COVID-19 pandemic, which has created a major global impact.