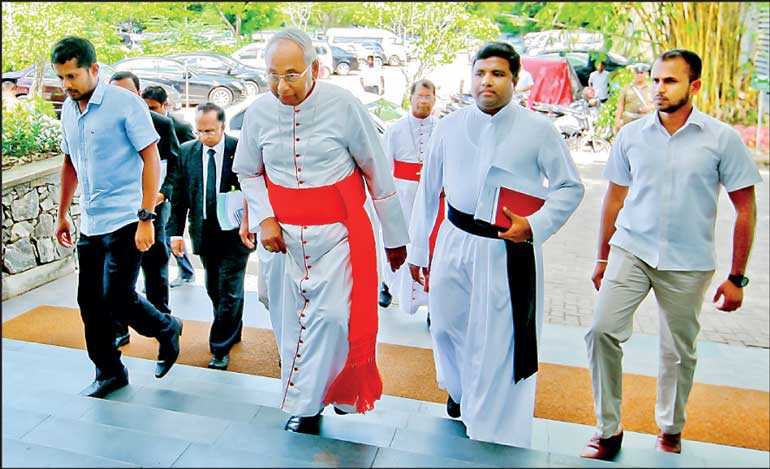 Archbishop of Colombo Malcolm Cardinal Ranjith arriving to give

evidence before the Commission yesterday – Damith Wickramasinghe
Cardinal testifies for close to four hours
COI appointed by former President in September
President Rajapaksa met with Commission members last week
Extends his fullest support to it, emphasises need to bring culprits to book
Archbishop of Colombo Malcolm Cardinal Ranjith yesterday gave evidence before the Commission of Inquiry investigating into Easter Sunday attacks.

His testimony before the five-member COI chaired by Court of Appeal judge Janaka de Silva lasted about four hours.

The Commission was appointed by former President Maithripala Sirisena in September to investigate and inquire into the incidents and take necessary action to enable future legal actions against those who may be responsible for lapses that led to these attacks.

President Gotabaya Rajapaksa met with the members of the COI last week and emphasised the need to bring those responsible before the law without further delay, and extended his fullest support to ensure justice is served.

The Commission has been given wide-ranging powers, enabling it to transmit to the Attorney General material gathered during the investigation and inquiry, for the AG to consider the institution of criminal proceedings against those who committed the offences as well as those in authority who failed to prevent them.

The COI has also been asked to make recommendations aimed at preventing the occurrence of such offences and acts of wrongdoing in the future and measures to be taken to prevent the possible damage to national security and national unity by such acts of terrorism and extremism.

The COI other members are Court of Appeal judge Nissanka Bandula Karunaratne, Retired Judge of the Court of Appeal Nihal Sunil Rajapaksa, Retired Judge of the Court of Appeal Bandula Kumara Atapattu, and Retired Ministry Secretary W. M. M. R. Adikari.

The COI was under the provisions of the Commission of Inquiry Act, No. 16 of 2008.