Insists on his innocence, says prepared to go before any commission
Points to existing AG report on bond sales as proof of blamelessness
Wants commission report released, says huge losses caused
Calls on Govt. to pay equal attention to other corruption allegations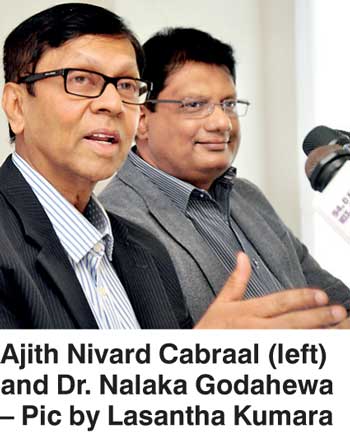 By Uditha Jayasinghe

Former Central Bank Governor Ajith Nivard Cabraal yesterday categorically denied any irregularities in bond sales during his term and said he was prepared to testify before any future commission but called for the Government to take action on the Presidential Commission's report.
Responding to the statement by Prime Minister Ranil Wickremesinghe on Sunday that the Government would have to pay a whopping Rs. 10 trillion over the next 25 years due to allegedly irregular bond sales of Rs. 4 trillion from 2008 to 2015 without the Central Bank's Monetary Board approval, Cabraal flatly denied any wrongdoing. He also called on President Maithripala Sirisena to release the full report.
"The main conclusion that can be drawn from the President's statement is that the top leaders of the Government have worked out a compromise that causes the least damage to them. Even though someone may not commit the actual crime they can be guilty of aiding and abetting and in the run-up to the bond scam there were several actions by Prime Minister Ranil Wickremesinghe that could perhaps be construed in this light," he said.

Cabraal outlined the removal of the Central Bank from under the Finance Ministry and allocating it under the Prime Minister's ministry, the appointment of the Pitipana Commission, statements made to Parliament backing former Governor Arjuna Mahendran, the addition of footnotes to the second Committee on Public Enterprises (COPE) report and other developments since 2015 as efforts to cover up the fraudulent bond sales.

"Arjuna Mahendran served as Governor for 487 days after the first alleged bond scam, and 91 days after the second alleged scam without any interruption. Neither the Prime Minister nor the President made any attempt to remove Mahendran from office even though a huge loss was caused to the country."

The former Governor also denied any conflict of interest in his sister working for Perpetual Holdings, the parent company of Perpetual Treasuries, during his tenure as the head of the Central Bank. Cabraal, responding to questions, emphasised that he had repeatedly explained that his sister was employed only for one year and did not benefit from the bond transactions of Perpetual Treasuries.

Cabraal also noted that several details, which emerged during the commission hearings, were not mentioned in President Sirisena's statement. These included a witness saying State banks were requested to bid low by former Finance Minister Ravi Karunanayake and the role of Bank of Ceylon in releasing excess funds to Perpetual Treasuries for bond purchases. He also insisted losses incurred by the Employees Provident Fund (EPF) needed to be probed in detail to ascertain their extent.

"Treasury bond sales during 2008-2014 have already been closely examined by the Auditor General in response to a request made by former Finance Minister Ravi Karunanayake on 19 August 2016 and the report released on 16 January 2017. If the President wishes to ascertain if there have been irregularities he only has to refer to this report."

Cabraal also stressed that the Prime Minister's allegations of Rs. 10 trillion in losses was made without any basis and said he was ready to go before any commission to prove this point, recalling that he had also volunteered to be present before several COPE committees during his term as Governor.

"Even during this presidential commission I was prepared to give testimony but they said a statement from me would be sufficient. Please tell me, I will go."