Estimates Q2 growth to be 20% due to the low base of same period a year earlier
Services sectors, construction, agriculture key growth drivers
Insists there is a clear upturn in economic activities
Says if tourism picks up, economy will see a reasonable growth by the year-end
---
By Charumini de Silva
---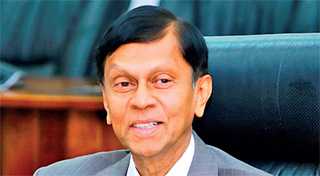 State Minister of Money and Capital Market and Public Enterprise Reforms Nivard Cabraal
---
Money, Capital Markets and State Enterprise Reforms State Minister Ajith Nivard Cabraal yesterday said the country›s economic growth in the first quarter will be around 3.5% to 4% given the rebound of economic activities.
"We have seen that all economic activities are rapidly normalising after the second wave of COVID-19, and there is a clear upturn in economic activities. Given the projections by the Central Bank, we are confident that the first quarter Gross Domestic Product (GDP) growth will be around 3.5% to 4% or more," Cabraal told the Daily FT.

During the first quarter of 2020, the economy recorded a negative 1.1% GDP as a result of the COVID outbreak, leading to slow down the country›s economic performance.

Cabraal said that second quarter growth will be around 20%, due to the low base of the same period a year earlier.

"Construction, agriculture and service sectors, except tourism, will see a substantial growth," he added.

Despite the strict protocols, he said the tourism sector has also bounced back to a reasonable level within just a month of reopening borders to international travellers and commercial flights post-COVID.

"If the tourism industry also picks up, we will then see a reasonable economic growth by the year end," he added.

In 2020, the second quarter GDP recorded an unprecedented fall by 16.3%, compared to the 1.1% of growth rate recorded in the second quarter of 2019, and it was the largest plunge ever recorded in Sri Lanka history.

Considering the second quarter of 2020, from 19 March – 20 April, the whole country was under a lockdown to the pandemic and gradually the districts were released from the imposed curfew. However, until 26 May, the two main commercial districts — Colombo and Gampaha, where the major industrial zones and business places are situated, were under imposed curfew to control the spread of COVID-19 virus among the community.

The State Minister Cabraal highlighted that the ongoing COVID-shield vaccination campaign is also giving confidence to the general public.

"We are currently vaccinating close to 50,000 people daily, which is remarkable. Within the next couple of months, Sri Lanka will receive more doses of the COVID-shield vaccine and will be able to vaccinate the general public," he added.

Sri Lanka has vaccinated frontline staff and is now focusing on people over 35 years in the Western Province, which is the most economically active and is also the highest risk area.