By Chathuri Dissanayake

A subdued Rajitha Senaratne yesterday admitted that the cabinet reshuffle did not go as many anticipated, saying that more significant changes were expected by Government Ministers, including him.

The reshuffle, which saw only a few members of the United National Party being reassigned ministries, fell well below expectations, Senaratne said at the weekly Cabinet press briefing. He also confirmed rumours about a move to reassign the Law and Order Ministry, which was assigned to Prime Minister Ranil Wickremesinghe on 25 February.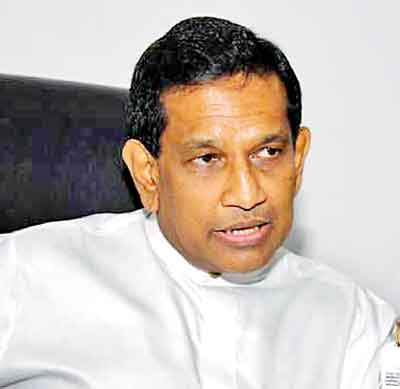 "We accept that the reshuffle was not completely successful, we wanted changes in some ministries which were underperforming, and we expected changes. But there are some elements that were good, but yes, it was not all successful," he told reporters.
The Minister claimed that concerns over how certain subjects, such as Higher Education and Highway, have been joined in assigning ministerial posts went unheard even during the reshuffle, as members of the Government were too busy managing the political crisis to address the issues.

"We said we are not happy about how the Ministry subjects have been assigned. A meeting was set up with Finance Minister Mangala Samaraweera, Minister Malik Samarawickrama, and the Ministry secretaries to discuss the issue and figure out how best to couple ministries. But then the political crisis dragged on, and they had to rush for meetings to negotiate the situation, and the meeting never happened," Senaratne claimed.

Attempting to make light of the displeasure expressed by some members of the Government after Cabinet changes were made last Sunday, the Minister insisted that no politician has ever been happy about their assigned subject after a cabinet reshuffle.

When asked why the Government is struggling to carry out a complete reshuffle resulting in the reforms being dragged on over a two-week period, Senaratne side-stepped the question, saying that the negotiations in the changes to UPFA Cabinet Ministries was an internal matter.

Confirming rumours that Field Marshal Sarath Fonseka, currently functioning as the Minister of Regional Development, is being considered to be appointed the Law and Order Minister, Senaratne admitted the idea has been met with opposition within the Government and the Department of Police.

"The decision to temporarily assign the Ministry to the Prime Minister was because Minister Sarath Fonseka was not in the country. Once the matter is discussed with the person concerned, a concrete decision will be taken and the subject will be reassigned to him when the second part of the reshuffle takes place," he said.