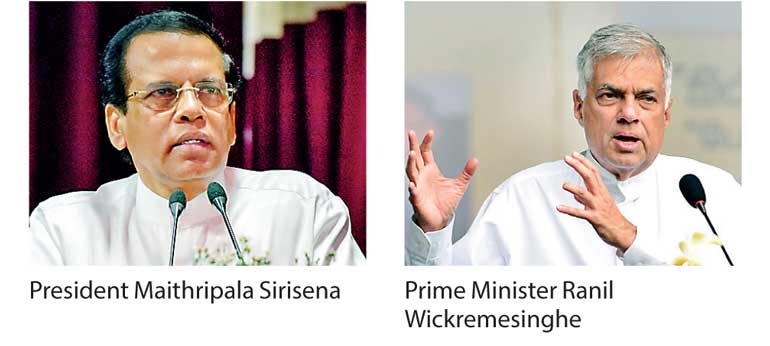 President unleashes emotional outburst against UNP MPs, catches Cabinet off-guard
"I am not an ungrateful man" President tells Cabinet before walking off
PM and others coax Sirisena to return to resume Cabinet proceedings
President insists bond and PRECIFAC reports being handed over together coincidence but pledges to take action
Says Govt. cannot sit by after campaigning on anti-corruption platform
Cabinet decides to reverse changes to Excise Ordinance despite protests from Fin. Min.
By Chathuri Dissanayake

An emotional President yesterday walked out of the Cabinet meeting after voicing disappointment over criticism levelled against him by some United National Party lawmakers.

President Maithripala Sirisena yesterday told the Cabinet that he was not an "ungrateful or inhuman" person who has forgotten the help he received during the presidential election. The President was referring to some of the criticism levelled at him on various political stages in the run-up to the Local Government elections.

Singling out several UNP MPs by name including S.M. Marrikkar, Minister Harin Fernando, Nalin Bandara, Sidney Jayarathna, State Minister Sujeewa Senasinghe and Chaminda Wijesiri, President Sirisena told the Cabinet ministers present that he never intended to attack the UNP and was disappointed that he had been severely criticised on election stages, a senior Minister told the Daily FT.

"Why are you attacking me? Are you instructing them to attack me?" President Sirisena had reportedly asked the Prime Minister.

Signaling out Telecommunications and Digital Infrastructure Minister Harin Fernando, who was not present at the Cabinet meeting on Tuesday, President Sirisena had said "Either he has to go or I have to go."
Sirisena also told the ministers, who were all caught off-guard by his emotional outburst, that the Bond Commission was appointed as he was under pressure from the public to do so.
"I did not appoint the commission to attack the UNP. I wanted to appoint a committee but the Prime Minister was against it and his committee was not effective so I was forced to appoint a commission. We came to power campaigning against corruption. Three months into the Government this happened so I was compelled to take action," the President was quoted as saying at the meeting.

Defending his actions, Sirisena had said that he did not plan for the Bond Commission report to be finalised at the same time as the Serious Acts of Fraud, Corruption and Abuse of Power, State Resources, and Privileges (PRECIFAC) reports. Insisting that it was a coincidence, he said that he would have to take action on reports presented by both commissions.

After a monologue lasting close to half an hour, Sirisena walked out of the meeting saying he could not work with the UNP under such strained relations. A group of ministers led by Prime Minister Ranil Wickremesinghe then had to coax the President for over half an hour before he finally returned to chair the Cabinet meeting.

Putting things in perspective, the Prime Minister had pointed out that the members of the UNP had faced severe criticism by members of coalition party SLFP over a longer period of time compared to what was said against him on election stages recently.

"This is all part of politics. These things happen," one senior SLFP member said, trying to make light of the situation.

At the tail-end of the Cabinet meeting, President Sirisena also criticised the move by Finance Minister Mangala Samaraweera for the recent decision taken to revoke the prohibition of selling alcohol to women and extending opening hours for liquor stores. Faced with a barrage of criticism from other ministers, including Health Minister Dr. Rajitha Senaratne and Sports Minister Dayasiri Jayasekara, Minister Samaraweera had reluctantly agreed to rescind the gazette notification lifting the prohibition.