CSE currently trading at discount compared to most frontier, emerging markets
Attractive valuations of most listed stocks, presents good buying opportunity for locals and foreign investors
With expectations of improvement on economic front post-General Election, CSE expects more IPOs
By Charumini de Silva

The Colombo Stock Exchange (CSE) believes listed equities offer an attractive opportunity for both foreign and local investors given the re-rating of growth prospects and rebound in business confidence this year.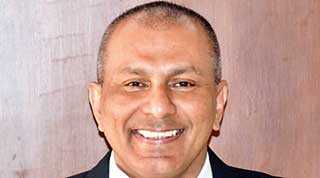 CSE Chairman Ray Abeywardena
It said Sri Lanka presents an ideal diversification opportunity for foreign portfolio managers, while low valuations in the market make the top listed companies extremely attractive options in one of the cheapest markets in the region.

Colombo stock market, despite challenging times, finished 2019 with a modest 1.27% gain thanks to rally ahead of and post Presidential Elections.

The positive finish was a big relief of investors after 2018 saw a 5% decline. The more active S&P Sri Lanka 20 Index however declined by 6.32%.

"Going forward we believe that we will see improved market sentiments that will make the stock market more active and turn the indices into positive territory," Colombo Stock Exchange (CSE) Chairman Ray Abeywardena told the Daily FT in an interview.

"Sri Lanka's capital market offers opportunities to generate attractive returns over the long term, complemented by the growth potential of our listed companies," he added.

Abeywardena, a capital markets veteran, pointed out that the CSE was presently trading at a discount compared to most frontier and emerging markets at a market Price Earnings of 10.68 times and a price-to-book value of 1.14 times, whereas global equity markets remained expensive.

"I believe that we need to communicate these opportunities to the foreign investor community which focuses on frontier markets such as ours. Stock brokers have continued to engage foreign portfolio investors as the CSE and the SEC have also done. As an industry we have been promoting and showcasing the stock market in many major financial centres in the world under the 'Invest Sri Lanka' brand," he added.

Acknowledging that Sri Lanka as a market had traditionally remained more local in character, with a low correlation with developed, and at times, peer frontier markets, he however said the correlation between Emerging and Developed Market securities had converged in recent years, presenting new diversification challenges to institutional investors, thus making the Sri Lankan market a truly unique value proposition.

"We will continue to engage this segment of investors in 2020 as well and the CSE looks forward to actively working with the Securities and Exchange Commission of Sri Lanka (SEC), the stock broking community and our listed companies on presenting the Sri Lankan story to the foreign investor community in order to attract larger foreign inflows into the stock market," Abeywardena said.

Given the attractive valuations of most listed stocks, he said the market presents a good buying opportunity.

"We have seen an increase in local retail investor participation in recent times. However, we are yet to see local institutional investors being active on the stock market," he stressed.

Amidst what was a challenging year for the country, economy and the stock market, he said local investor activity improved during the year with local investor contribution to turnover crossing the 60% mark (63.6%) for the first time since 2015.

In 2019 Abeywardena said the market remained flat for most of the year with indices in negative territory and with investors appearing to take a wait-and-see approach with it being an election year.

"However, following the Presidential Election, we saw sentiments changing and a shift in momentum with a rise in both market volumes and price indices which made November the best performing month of the year. As a result, the ASPI closed the year on a positive note of a 1.27% year-to-date gain which is encouraging given that we ended on a negative 4.98% in 2018," he added.

He said foreign investors were again net sellers in 2019, with Rs. 11.8 billion in net outflows as against a net outflow of Rs. 23.2 billion in 2018. Such foreign selling was recorded in another challenging year for Sri Lanka.

Abeywardena further pointed out that companies opted not to reach out to the primary market for funding in 2019 with valuations not being appealing enough to do so.

"The CSE is currently trading at a valuation multiple of 10.68 times which poses a good opportunity for investors but is not encouraging for potential issuers. In 2019 we had two companies - Mahaweli Coconut Plantations and Laugfs Power - listing shares on the stock market through an equity introduction. A total of Rs. 89 billion was raised through debt and secondary equity issuances in 2019," he said.

With expectations for an improvement on the economic front post-General Election, he said initial public offerings (IPOs) were expected in the coming years.

"Going forward we believe we will see improved market sentiment that will make the stock market more active and turn the indices into positive territory. I believe that investors will take a wait-and-see attitude until General Elections are over and we may see market momentum thereafter. There are companies that offer good value and no doubt local and foreign Institutional investors will seek these opportunities," he said.

Abeywardena said the CSE would continue its market development activities, while the focus areas would be on improving the size and liquidity of the market, improving the regulatory framework which will instil greater investor confidence, diversifying the product range beyond shares and corporate debt, working on broad-basing the stock market among local investors, achieving a greater degree of digitalisation of its services to stakeholders and improving market infrastructure.