Notes shortcomings in system which weakens Parliament's role
Presents new Parliament's first COPE report to House
---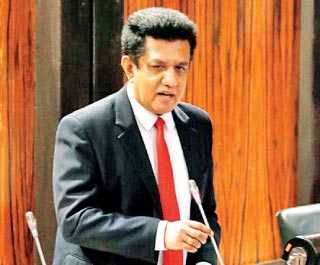 COPE Chairman Charitha Herath speaks in Parliament after presenting the first report to the new House
---
Committee on Public Enterprises (COPE) Chairman MP Charitha Herath, this week voiced concerns about weakness in Parliament's role of overseeing public finances.

Speaking after presenting the first COPE report to be undertaken by the new Parliament, Herath said Parliament's oversight role must be strengthened.

The report revealed several instances that highlighted disregard for due process in terms of procurements in the State sector.

It said there has been serious weaknesses in the process of evaluating a bid by the Lanka Coal Company Ltd. for purchasing coal – causing huge losses – while procurements have not been signed-off by the cabinet evaluation committee.
\These irregularities had taken place from 2006-2016, the report said.

The report had also questioned the legality of the documents pertaining to the ordering of coal, and had called for the advice of the Attorney General regarding the matter.

The report also revealed that the three units of the Lakvijaya Power Plant generate 900 tons of flying ash; in the process of burning of coal, 658,051 tons of flying ash are deposited at the plant.

At the same time, it has been noted in the report that the Environment Authority of the North Western Province, which acts as the sole authority to regulate the technical activities, without any regard to the functioning of the Central Environment Authority, despite the subject of environment coming under the combined list according to the 13th Amendment. COPE has also questioned the postponing of the establishment of the Environment Consultative Council of the provincial environmental authority.

The report had revealed that 41 industries located near the Kelani River have been functioning without environmental protection licences, which include 17 high risk ones. It has also been revealed that environmental protection licences have not been provided for the Seethawaka Export processing zone for eight years.