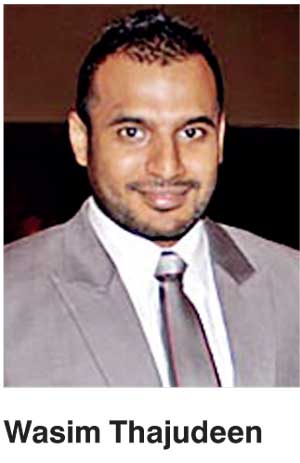 The Criminal Investigations Department of the Police yesterday told Colombo Magistrate court that statements have been recorded from several persons who are close associates of family members of Former President Mahinda Rajapaksa in connection with the murder of national rugby player Wasim Thajudeen.

When the case was taken for hearing, Deputy Solicitor General Dilan Ratnayake appearing on behalf of the CID told the Colombo Magistrate's Court that the victim's mobile phone had been subjected to a special analysis.

In addition, a laptop used by Thajudeen has been directed to the Moratuwa University to get an analysis report, he informed the court.
The CID is conducting investigations into several persons connected with the family members of the ex-President and the Police had recorded statements from those individuals, the counsel added.

Investigations are also being carried out with regard to two vehicles used by the Navy during the period from 1 May to 30 May 2012 when the rugby player was killed.

The Deputy Solicitor General also informed the judiciary that an investigation is being conducted into the telephone processing systems at the President's House, the Presidential Secretariat and Temple Trees.

The Deputy Solicitor General said that this was a very complex investigation and that therefore a reasonable time was needed to complete it.

Colombo Additional Magistrate Darshika Wimalasiri ordered the case to be taken up on 3 May and ordered the CID to report the progress of investigations.

The suspects of the case Former Officer-In-Charge of Narahenpita Police Sumith Champika Perera, Former Western Province Senior DIG Anura Senanayake, Former Colombo Judicial medical officer Prof. Ananda Samarasekara appeared in court today and the judge ordered them to appear before the court on the next hearing day.

Thajudeen died on 17 May 2012 in Kirulapone when his car crashed into a wall and caught fire. Earlier it was ruled as an accidental death but the recent investigations by the CID had found that the player was killed before the accident and the accident was staged.