Cabinet approves setting up of negotiation committee to finalise proposed PPP venture
---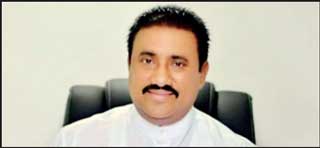 Shipping Minister Rohitha Abeygunawardena
---
The China International Container Terminal (CICT) has proposed to set up a state-of-the-art service supply centre within the Colombo Port to cater to booming future demand.
To further evaluate the proposal and implement it on a Public Private Partnership (PPP) basis, the Cabinet of Ministers at their meeting on Monday decided to appoint a negotiating committee on the recommendation of Ports and Shipping Minister Rohitha Abeygunawardena.

The Government said the proposed centre formed part of the efforts to strengthen Colombo Port's hub status within South Asia.

A land area of 5.3 hectares within the Battenburg and Bloemendhal area and close to the Unity Container Terminal of Sri Lanka Ports Authority has been identified for the setting up of service supply centre. It will be adjacent to the CICT, the South Asian Gateway Terminal (SAGT) and the Sri Lanka Ports Authority's East Container Terminal (ECT).

The Government has committed to expand capacity at the Colombo Port with the launch of ECT as well as approving a joint venture project by India's Adani Group and Sri Lanka's John Keells Holdings to develop the West Container Terminal by 2023. The twin ventures will boost Colombo Port's throughput capacity to over 10 million TEUs from the present seven million TEUs.