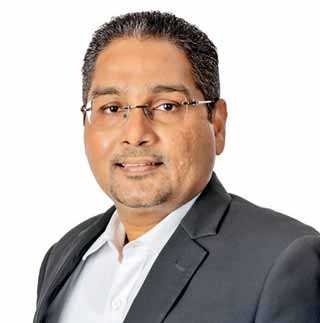 CICRA Holdings Group Director/CEO Boshan Dayaratne
---
With more people working from home due to the ongoing COVID-19 pandemic, online traffic has increased, paving the way for hackers and cyber-attackers to exploit the unforeseen vulnerabilities that
have arisen in the cyber space in this 'new normal'.

In response to this, for the first time in Sri Lanka, premier cyber security specialists CICRA Consultancies Ltd. introduced a computer-based training platform on cybersecurity to help raise awareness to overcome the potential risks of a cyber-security breach with emerging cyber threats.

CICRA Consultancies will be carrying out the first phase of this computer-based awareness programme for the corporate sector.

Commenting on this timely initiative, CICRA Holdings Group Director/CEO Boshan Dayaratne said: "With more people connecting to work from home during this pandemic, we've realised the urgency to educate people with the importance of protecting themselves from cyber threats that are on the rise."

"The first phase of our computer-based cyber-security awareness programme aims to educate the employees within corporate entities, to ensure that they maintain internet hygiene, reducing the risks of potential external attacks that may even collapse the operations of any company," he said.

According to CICRA Consultancies, safety measures that companies take should go beyond investing in firewalls.

"In today's world, protecting a company's information is the responsibility of the employee, as they have been provided with devices and access to such classified information," Dayaratne remarked.

Under this program, CICRA Consultancies is offering 15 modules which are compulsory for participants to complete. For employees and new entrants, completing this programme will undoubtedly be an added qualification to their portfolio, as well as empower them with all the necessary knowledge to protect themselves and their organisation from potential cyber-attacks.

Currently, this program is available to the employees of select leading banks and an Australia-based corporate giant has come onboard to offer this cyber-security training programme to its employees, ascertaining CICRA's ever-expanding global presence and reach.

By onboarding their workforce to this accessible computer-based training program, businesses will be able to significantly reduce risks, and decrease infections and related helpdesk costs. Companies will be able to protect their reputation and ensure security with a significantly lower risk of data breaches, while securing their overall cyber-security investment.

As one of the leading organisations in Sri Lanka's cyber-security services industry, CICRA Consultancies improves integration between "people", "process" and "technology". The company's unique methodologies of providing cyber network defence defines the requisite activities at each phase of the assessment to help ensure service excellence.