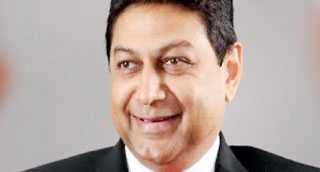 Chairman Harsha Amarasekera
---
CIC Holdings PLC has successfully overcome the COVID-19 pandemic to record a near threefold increase in after tax profit for the first quarter of the 2020/21 financial year. The diversified conglomerate which has a significant presence in the Agriculture Sector recorded a turnover of Rs. 7.87 billion, a 17% increase in relation to the corresponding period of the previous year.
Profit after tax for 2020/21 first quarter increased to Rs. 542 million as against Rs. 137 million in the corresponding previous quarter while profit before tax for 2020/21 Q1 was recorded as Rs. 854 million as against Rs 263 million in the previous year.

Despite facing unprecedented challenges during a quarter in which the entire country was in lockdown and under a 24-hour curfew, CIC Holdings was able to deliver exceptional results.

The Company continued to operate most of its facilities with limited and restricted access to resources during the pandemic, with the aid of the regulatory authorities inclusive of the Sri Lanka Police, in a bid to make products available to their customers.

The Company's fertiliser blending plant at Peliyagoda and agri inputs re-packing plant at Godagama operated with limited staff during the lockdown period and working with a restricted distributor network, provided farmers with essential agri inputs required for cultivation.

Similarly, the distribution of healthcare products to hospitals and pharmacies was also facilitated throughout the lockdown period through the use of strategically organised modes of transport. The lockdown period also saw the uninterrupted manufacturing of CIC Dairy Products at the plant in Dambulla, thus guaranteeing those farmers operating in the North Central Province an income during the lockdown period through the continuous supply of milk.

The three farms at Dambulla, Hingurakgoda and Thalawa also operated during the pandemic in view of the fact that farming activities were granted special permission to continue operations by the Health Authorities. CIC through its Fresheez outlet was also able to tie-up with home delivery partners inclusive of PickMe in order to deliver much-needed fresh fruits, vegetables and other essential items directly to consumer homes during times of curfew.

The Company ensured that all employees working away from home during the lockdown period in order to facilitate these operations strictly, followed the health guidelines prescribed by health officials while those employees working from home were equipped with all resources required to facilitate un-interrupted operations on the frontlines.