By Rahel Kirinde


The Commission to Investigate Allegations of Bribery or Corruption (CIABOC) Director General (DG) Sarath Jayamanne on Friday requested for liberation from the Government in terms of financial autonomy and freedom in recruitment.

"We need to be able to get funds directly from the Parliament and be able to hire our own experts," said DG Jayamanne, speaking on the final day of the 'Global Expert Group Meeting on the Jakarta Principles', claiming that sufficient funds are not allotted to the commission in the annual budget and that they are not able to be directly involved in hiring professionals to work at the commission.


"Currently, the annual budget allocated to the commission is around Rs. 350-400 million," said Jayamanne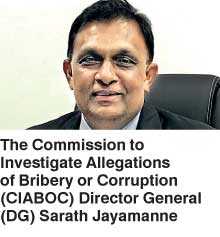 He said that, despite a condition being made during the inception of the commission stating that salaries of the attorneys at the commission should be equivalent to that of those at the Attorney General's Department, it has not been met. "The salaries of our lawyers are not even close to that of the Attorney General's Department lawyers," he said.

"How will we rid the country of bribery and corruption if at least our officials' salaries are not increased?" he further stated.


Elaborating on the lack of independence in recruitment, the DG said that the commission does not have direct involvement in making new recruitments. "Currently, we have to depend on various Government agencies for the recruitment of professionals, such as accountants, auditors, engineers, banking experts and asset recovery experts. If we receive this authority, we will be able to hire our own officials on contract basis." He added that, in a case where the work of an individual is unsatisfactory, they could stop renewal of the contract and prevent extension of the work period.


On a different note, DG Jayamanne revealed that the amendment of the declaration of assets and liabilities law and the preparation of the new Bribery Commission Act have been approved by the Cabinet, and that the commission intends to make this happen within this year. He added that the policy paper has been prepared for asset declaration.

"We will consider the lessons learnt from other countries and views of the general public," he said, adding that a central authority will also be required to monitor the work on asset declaration."

Jayamanne further mentioned that the Bribery Commission Act will include provisions for bribery in the private sector and the bribery of foreign officials as there are no provisions currently regarding either of these.


"There are instances where foreign officials from other jurisdictions ask for bribes from local investors and business people," he said, adding that the new CIABOC law will focus preventing bribery and that a mandate will be taken to educate school children and raise awareness on the consequences of bribery and corruption.

Asserting the importance of conforming to the provisions of the United Nations Convention against Corruptions (UNCAC), which includes bribery of foreign officials, and other institutions engaged in similar work, the DG noted that we must comply with them in order to move forward.

"It is not a case where they are dictating terms to us. We are lagging behind, and we should certainly comply with international communities and stay in line with them in order to succeed."