Centre for Environmental Justice challenges Cabinet decision to suspend requirement for permits
Further consideration on 19 Oct.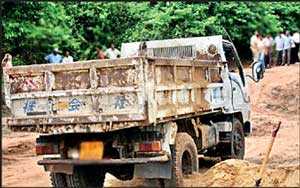 The Court of Appeal yesterday directed the Acting Inspector General of Police (IGP) to implement the law against any persons transporting sand without the required licenses issued under the Mines and Minerals Act and related regulations.

The CA order came by way of interim relief sought by the Petitioners in a Writ Application – the Centre for Environmental Justice – requesting the court to issue a writ order declaring as null and void the decision taken by the Cabinet of Ministers earlier this year to suspend the necessity for a permit to transport sand.

The Bench comprised of Court of Appeal President Justice A.H.M.D. Nawaz and Justice Sobhitha Rajakaruna.
Deputy Solicitor General Parinda Ranasinghe P.C. who appeared for the Cabinet of Ministers and the Acting IGP informed the court that the permit system for the transport of sand which existed under the Mines and Minerals Act is still in effect and the Cabinet decision has been misinterpreted.

Attorney-at-Law Ravindranath Dabare who appeared for the Petitioners said that the permit system must continue and sought interim relief.

The CA considered the facts and directed the Acting IGP to implement the law in keeping with the legal requirements under the Mines and Minerals Act for the transportation of sand.

The petition will be taken up for further consideration on 19 October.