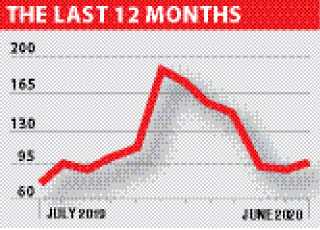 The LMD-Nielsen Business Confidence Index (BCI) improved for the first time this year, climbing seven notches to register 96 in June. LMD points out that this places the index higher than a year ago (81) following the Easter Sunday attacks although it remains 21 basis points below its average for the last 12 months.

Nielsen's Director – Consumer Insights Therica Miyanadeniya notes in the latest edition of the magazine that "optimism is on the rise once again and sentiment is positive as the country has opened up ahead of others in the region".

"The civilian population, businesses, and private and public enterprises are adjusting to a post-COVID life with many stringent measures put in place to curb a second wave of the pandemic," she adds.

According to LMD, COVID-19 continues to be among the main concerns for business followed by the value of the rupee and inflation. Furthermore, financial instability is highlighted as an emerging issue.

Meanwhile, COVID-19 is also cited as the most pressing national issue.

As for the outlook, a spokesperson for LMD states that "the BCI may continue to climb as life seems to be gradually returning to a semblance of normalcy while businesses look to regain fully operational status".

He adds that the general election scheduled for 5 August "could signal an end to the recent political stalemate".

The publisher of LMD, Media Services, says the latest edition of the magazine will be released this week while its digital version is available on WhatsApp and its social media platforms (for the full BCI report, visit www.LMD.lk).