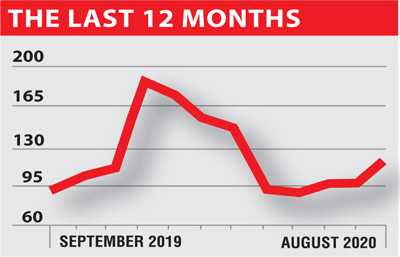 The latest LMD-Nielsen Business Confidence Index (BCI) survey – which was conducted in the first week of August – registered an increase of 20 basis points from July to 117. LMD notes that the index falls

four points shy of its 12 month average.

Nielsen's Director – Consumer Insights Therica Miyanadeniya says in the magazine: "Although the presidential election held in November last year brought about a phenomenal jump in the BCI as well as the Consumer Confidence Index (CCI), whereby both indices recorded five year highs, the recent general election didn't command such a remarkable improvement."

According to LMD, fears over COVID-19 seem to be on the decline with inflation rising in prominence in terms of the concerns of businesspeople. Meanwhile, the coronavirus, the economy and inadequate per capita income are cited among the major concerns for the nation.

Commenting on the outlook for the index, Miyanadeniya expresses hope that "the BCI will continue to rise with the work put in by corporate leaders to improve the state of their businesses as well as efforts of the recently-elected government to come up with new strategies to uplift an economy under stress".

On the other hand, a spokesperson for LMD points out that the future of the index will also depend on "how corporates perceive the new regime's handing of constitutional matters, as well as their view of cabinet and other key portfolio announcements."

Media Services, the publisher of LMD, says the latest edition of the magazine will be released next week while its digital version is available on WhatsApp and its social media platforms (for the full BCI report, visit www.LMD.lk).