The LMD-Nielsen Business Confidence Index (BCI) declined by six basis points to register 95 in August, according to the latest edition of leading business magazine LMD. This is its lowest level for the last 12 months. In addition, the index is below its 12 month and all-time averages of 110 and 129 respectively, the magazine notes.Nielsen's Managing Director Sharang Pant notes in LMD that despite the growth in exports in in the first four months of 2018, and tourist arrivals and earnings in the first six months of the year, "businesses are yet to witness an uptick in demand – and consumer wallets remain under pressure from the impact of tax revisions and inflation that is rising again".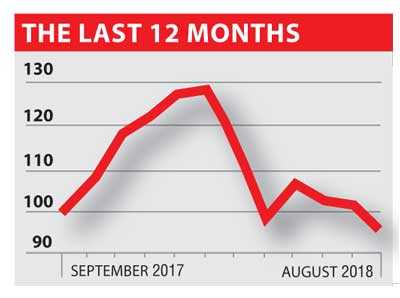 He adds: "New personal income taxes came into effect in April and there have been two rounds of fuel price increases. As a result, the National Consumer Price Index (NCPI) has crept upwards."

As for corporate sensitivities, LMD reports that high taxes, the policy regime and inflation are among the main concerns in business circles.

To this end, one corporate respondent states that "there is no consistency in the policies implemented by this Government" while another executive asserts that "we do not see any proper direction in the planning and development process".

A spokesperson for the business magazine notes that "views expressed by respondents to Nielsen's monthly survey as well as a perceptibly lacklustre economic outlook suggest that we are unlikely to see an uptick in business sentiment at least in the short run".

LMD's publisher, Media Services, says the latest edition of the magazine will be released to leading bookstores and supermarkets on 7 September (for the full BCI report, visit www.LMD.lk).