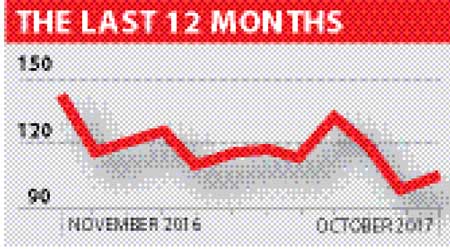 The LMD-Nielsen Business Confidence Index (BCI)has climbed 13 basis pointshigher to reach 119 in November, the latest edition of LMD reports.

Nielsen's Managing Director Sharang Pant attributes the recent uptick in biz confidence to Budget 2018, which he says "was welcomed across stakeholders as a document that aims to strengthen long-term measures as well as work out policies aimed at [a] short-term recovery". He observes that "the 'Blue-Green Budget' has announced initiatives that are favourable to agriculture-related activities, SMEs, infrastructure, land ownership and tourism, while shoring up revenues in the form of a 'green tax' on telcos and motor vehicles".

The exclusive monthly survey reveals that the outlook for the economy has also improved with 18% of respondents stating that the economy 'will improve' in the next 12 months. However, the majority (43%) of those polled expect conditions to 'stay the same'.
Where business prospects are concerned, the leading business magazine notes that sentiment has witnessed a dramatic improvement – as many as one-in-three respondents foresees better times ahead both in the long-and short-term, compared to 15% and 13% respectively in the previous month.

LMD also notes that sentiment regarding the investment climate also inched higher with one-in-five of the businesspeople spoken to by Nielsen viewing it as being positive, compared to a paltry 7% in October.

Looking ahead, a spokesperson for the magazine's publisher Media Servicesstates:"As for the future direction of the BCI,it may be naive to get one's hopes up but for the moment at least, the Budget proposals seem to have done the trick."

Media Services says the Decemberedition of the magazinehas been released to bookstores and supermarkets (for the full BCI report, go to www.LMD.lk).