Says targets outlined in SLPP manifesto practical
Argues improved growth and investment will bridge revenue gap caused by reduced VAT
Faults Govt. on economic management
Confident growth can recover with SLPP policies
By Shailendree Wickrama Adittiya

Development of tourism, IT, and construction industries, coupled with stronger foreign direct investment (FDI), can boost growth to the ambitious 6.5% target outlined by the Sri Lanka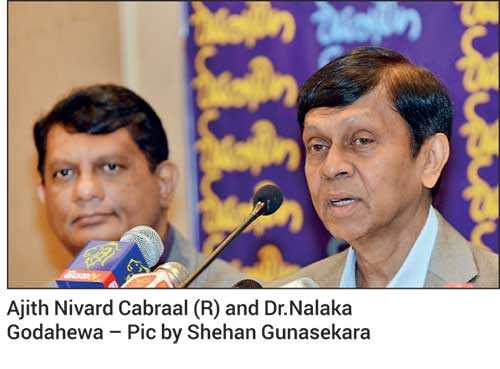 Podujana Party's (SLPP) manifesto, former Central Bank Ajith Nivard Cabraal said yesterday.

Along with former SEC Chairman Dr. Nalaka Godahewa, Cabraal made a comparison between the manifestos of SLPP presidential candidate Gotabaya Rajapaksa and New Democratic Front (NDF) presidential candidate Sajith Premadasa, while also outlining policy differences between the previous and current Governments.

Discussing how an average of 6.5% economic growth can be achieved, which is a key target of the SLPP manifesto, Cabraal said, "Local investment is key. When local companies start investing, it is a sign of coming out of the doldrums, and foreigners will soon follow."

"All these are actors that will ensure the growth rate will stay around the 7-8% mark. There will be a few years in which there can be a reduction as well. That's why we are targeting an average growth rate of 6.5%," Cabraal explained.

The SLPP manifesto also mentions the introduction of a tax policy that promotes production in the country, stating, "A simple value added tax of 8% will be introduced replacing both the current VAT of 15% and the Nation Building Tax (NBT) of 2%."

Tax concessions, however, reduce the revenue for Government expenditure and when asked how this deficit would be covered, Cabraal said the management of macroeconomic fundamentals would counter this.

"If you look after the big numbers, like the rupee, interest rates, and fiscal deficit, and if they are looked after carefully, you have space for development while also giving certain concessions to the people," Cabraal added.

Godahewa claimed there were as many as 10 policy statements, including Premadasa's election manifesto, presented by the United National Party (UNP) from 2014 to 2019, but they failed to deliver growth.
"The cost of mismanagement by the current Government has a negative impact on the economy, whereas the tax concessions we propose will have a positive impact on the economy."

He went on to explain that tax concessions will encourage investments by companies while also allowing individuals to consume more. "Tax concessions, particularly the reduction of VAT, will reduce the monthly cost of a family by 10%. That's a clear benefit for the people at a time when they are struggling with economic hardships," he added.