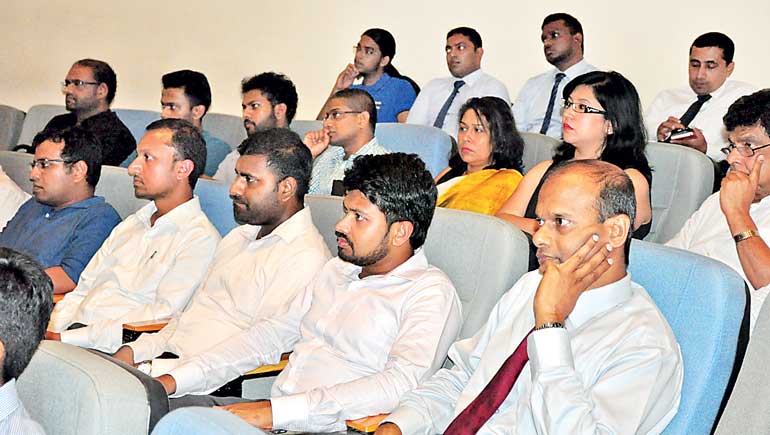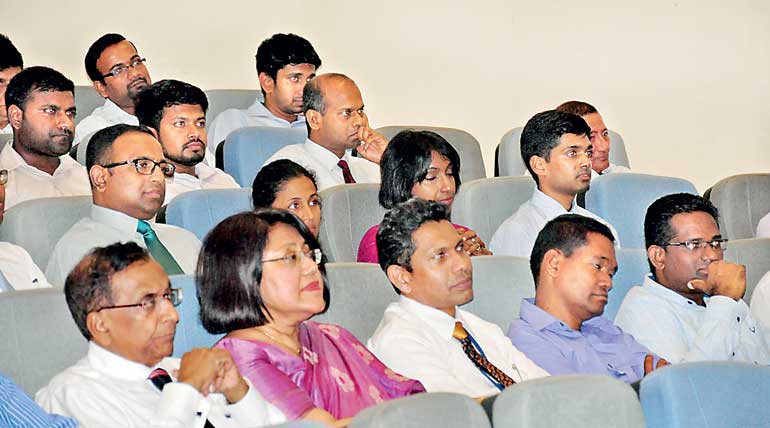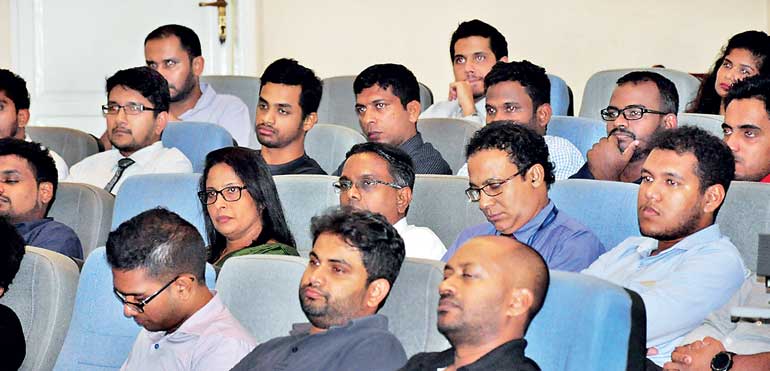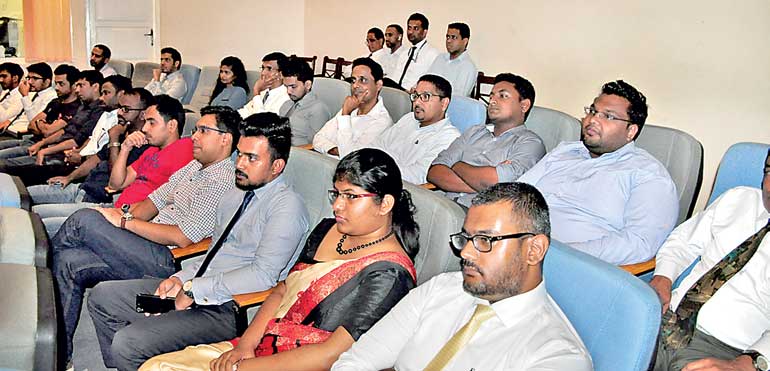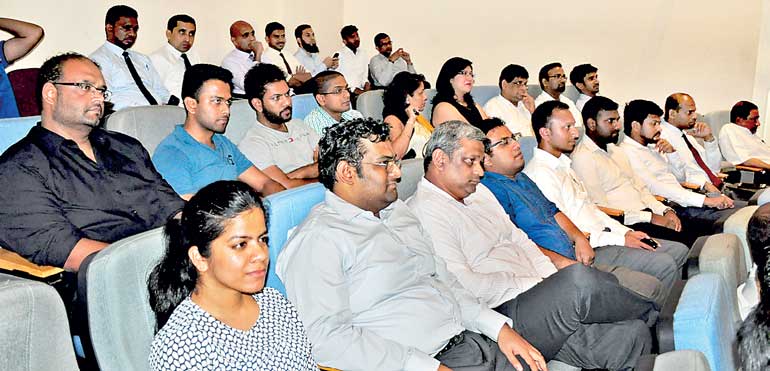 Newly set up Blockchain Technology Lanka Ltd., a subsidiary of Just In Time Holdings Ltd., recently held a forum on 'Blockchain for Enterprises' in association with NEM Malaysia, a fully functioning blockchain built for enterprise use.

NEM Blockchain is a platform that allows any business application to enjoy fundamental blockchain benefits along with additional enterprise features to manage identity, assets, notarisation, cryptocurrency, ownership records etc. NEM Malaysia is a fully owned subsidiary of NEM.io Foundation Ltd.

At the forum Xarcade and NEM Business Development co-founder and CEO Otto Bon Nostitz and NEM Technical Trainer Anthony Law shared new insights to blockchain.



They said that the blockchain is a shared digital ledger. It contains a constantly updated list of transactions. It is maintained by a public peer-to-peer network. Members of the network verify every new transaction made using consensus technology. This creates a unique and permanent audit trail of transactions made, and ensures no single point of failure, and no way to doctor the transactions recorded. Blockchain increases trust, as an immutable record is reliable and trustworthy, as a record cannot be tampered. It limits risk, as transparent records prevent tampering, fraud or cybercrime. Furthermore it is a distributed ledger without a central point of failure. It reduces cost, as an autonomous system without middlemen reduces overhead. It saves time, as transactions are quicker without middlemen. It also increases security since each transaction is securely encrypted.

NEM is more than just a cryptocurrency or a new altcoin. It is an entirely new platform built on the revolutionary blockchain technology, re-imagining from scratch the ideal blockchain. NEM does not only allow for standard peer-to-peer value transfer transactions, but instead does much more: store data, make transactions, prove identity, timestamp documents and create arbitrary digital assets. Advantages of NEM includes 100% new code: fast, secure, robust and enterprise-ready.

Using secure cryptography, NEM can be used for a wider variety of applications across many industries, including the financial industry, government, logistics and the medical industry. The NEM platform is a highly available system that any business, government, or individual can make use to shorten the design lifecycle and help reduce their cost of operations.

NEM.io Foundation's sole purchase is to education and promote the use of the NEM Blockchain technology platform, on an international scale to all industries and institutions.


NEM origins

Planning for the NEM project started in January 2014 and was launched in March 2015. What is unique is that the NEM platform is built by professional developers in a spirit of open source and open access, and it is a 100% new code from scratch.

NEM Blockchain's out of the box features allow multi-sig for account security, create assets that act as tradable tokens representing items of value, namespaces to differentiate companies within the blockchain, and messages to be sent together transaction (as labels).

NEM Model network (public and private chain) has easy to use universal APIs, nodes are cheap to implement, enables fast and cheap transactions and provides open-sourced wallets for IOS, Android and Desktop.

NEM Blockchain technology has the potential to change the way every industry manages its information and data. The Foundation details the opportunities in every industry to effectively store transaction, customer and supplier data in a transparency immutable ledger. NEM Blockchain for Governments enables State organisations across the globe to explore the use of blockchain technology to improve operations. The ability to record transactions on distributed ledgers offers new approaches to governments to improve transparency, prevent fraud, and establish trust. The Foundation is working with Governments to further the spread the use of NEM Blockchain Technology.

NEM is also working with academia as educational institutions can utilise the blockchain to store data around assessments, degrees and transcripts, as well as a verification of knowledge transfer between parties. The Foundation helps institutions to adopt NEM technology so they can enjoy the benefits of Blockchain technology.

NEM Venture Fund is worth $5 million, and is aimed at incubating and nurturing young start-ups to develop enterprise blockchain solutions on the NEM blockchain platform.


Blockchain Technologies Lanka breaks new ground

In partnership with NEM, Blockchain Technologies Lanka (BTL) will offer education, consultancy, applications, solutions and security for enterprises.

BTL was set up to adapt, expand and promote the benefits of blockchain technology to make Sri Lanka a blockchain hub.

BTL Director Gobinath Nadarajan said Blockchain provides "trust" by being a decentralised public ledger.

Hailing from Malaysia, Nadarajan is a crypto and blockchain expert and has 18 years of immense experience in the information technology and communication technology fields. He worked at both Ericsson and Huawei in the respective headquarters and held a number of interesting roles, including being responsible for $1 billion in sales for the South-east Asian region.

For the last 2 years, Nadarajan has been focusing on a full-time basis in the new technology areas called crypto and blockchain. He speaks in numerous countries educating in this new field. Nadarajan holds an engineering degree from the UK, an MBA from Australia, and is a Chartered Engineer with IET UK.

Nadarajan said education and awareness is the key to increase knowledge on blockchain and fintech solutions and adoptability, and hence BTL will offer in-house training, blockchain and fintech certification programs, and knowledge sharing. BTL plans to hold a Blockchain Global conference in Colombo in June as well.

As part of its consultancy and advisory services, BTL will offer support for organisations, regulators and governments that are interested in developing blockchain solutions. This will be via carrying out due diligence, developing framework for organisations to follow, developing white paper, guidelines, identifying key solutions, support in negotiations, and providing ongoing advisory and support.

The advantage of BTL is that it provides an "end-to-end" blockchain solutions to any organisation though global and in-house experts. BTL solutions includes platforms, smart contract development, loyalty programs, government solutions, databases, banking and fintech solutions, remittance services, development of tokens and notarising contracts.

Since security is a key aspect of blockchain and fintech, BTL will offer expertise on anti-pushing, smart contract audit and review, monitoring and support token sales, treat modelling, business logic flaw testing, vulnerability management and bug fixing, classification and reporting, infrastructure assessment and unusual tests.

Pix by Lasantha Kumara