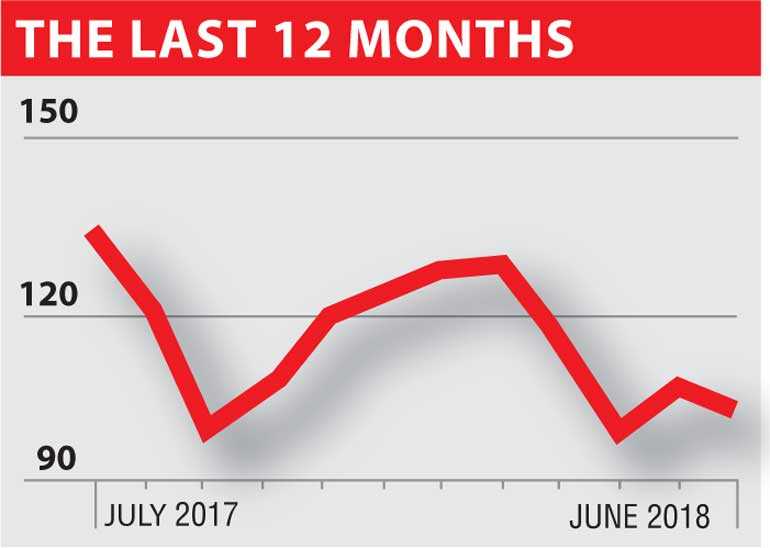 According to the latest edition of business magazine LMD, the LMD-Nielsen Business Confidence Index (BCI) declined by four basis points to 102 in June, yet again falling short of its 12-month average of 115.

As for the reasons behind the recent drop, in the July issue of LMD, Nielsen's Managing Director Sharang Pant states that "while inflation has been steadily coming down, there is a fear of it moving up again on account of an increase in fuel prices".

He adds: "Prices of commodities are stable, but they're still high compared to last year, and the tax on personal income is now higher."

When it comes to corporate sensitivities, LMD reports that high taxes, political interference and the value of the rupee are the main concerns among businesspeople. A survey respondent opines that "the economy has suffered due to constant political interference and a lack of consistency in policy implementation by the Government," adding that "we need political stability if our economy is to

improve".

Looking forward, a spokesperson for LMD observes that its assessment from last month – i.e. that there was little in the way of positive news to propel a major turnaround in business sentiment – continues to hold true, citing the impact of "the plummeting rupee, the prospect of spiralling costs and events on the world stage" on the local economy.

Media Services, which publishes LMD, says the July edition of the magazine will be released to leading bookstores and supermarkets on 6 July.

For the full BCI report, visit www.LMD.lk.