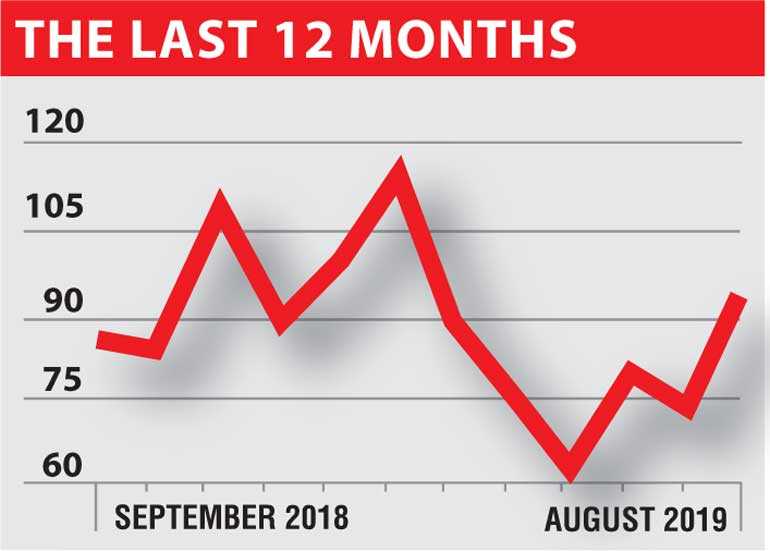 ---
The LMD-Nielsen Business Confidence Index (BCI) rose by 20 basis points to 94 in August – the highest increase in the index since November last year, according to LMD. And as the magazine notes, the barometer now stands one point shy of where was it a year ago and five points above its 12 month average of 89.

Nielsen's Managing Director Sharang Pant says: "Sentiment is improving with both businesspeople and consumers feeling that the worst is behind them and the future has better things in store. This is backed by macro and micro factors, such as export performance, currency stability, inflation and others." Moreover, he notes in LMD that businesspeople cite "the positive signals provided by the authorities in attracting tourists back to the island" as the reason for the improvement, adding that similar initiatives are expected to bring investments into the country as well. In the latest issue of the leading business magazine, political uncertainty is highlighted among the most notable national concerns in the face of the upcoming presidential election.

Meanwhile, taxes are cited as the main business concern. Notably, LMD also reports that concern regarding national security has subsided compared to previous months.

Meanwhile, a spokesperson for LMD cautions against being "too excited" by the improvement in sentiment in August, stating: "The latest hike in the BCI is a welcome sign but much will depend on how the pre-election period develops."

Media Services, the publisher of LMD, says the latest edition of the magazine will be released to leading bookstores and supermarkets on 6 September (for the full BCI report, visit www.LMD.lk).