Following four months of declining fortunes, the LMD-Nielsen Business Confidence Index (BCI) shored up by 19 basis points to register 81 in June. In comparison, the index stood at 102 a year ago while the average for the last 12 months is 10 basis points higher, LMD reports.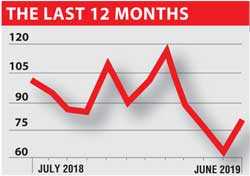 Nielsen's Managing Director Sharang Pant believes that the country is gradually emerging from the events that occurred towards the end of April, stating: "There is some level of optimism and discussions at various forums about how Sri Lanka should turn this into an opportunity to come back stronger – politically, socially and economically."

However, he notes that "citizens in general remain wary of the safety aspect – and this is impacting sentiment or confidence in general."

The leading business magazine notes that political uncertainty is highlighted among the main national concerns while taxes and inflation are topics of concern in business circles. A respondent explains that "despite the recent terror attacks and declining sales volumes, we have to pay high taxes – and that makes us barely profitable."

A spokesperson for Media Services, which publishes LMD, notes that while the reversal in sentiment is a welcome sign, expecting sustained gains in the coming months may be an overreaction.

"The 'rule by mob' culture that emerged not long after the tragic events of Easter Sunday, ongoing political stunts and apathy, and the prospect of an election make for a nation that is burdened with untold sensitivities," he says.

Media Services says the latest edition of the magazine will be released to leading bookstores and supermarkets on 5 July (for the full BCI report, visit www.LMD.lk).