---
The LMD-Nielsen Business Confidence Index (BCI) recorded an increase of 12 basis points to register 102 in October. The leading business magazine notes that this represents the highest the index has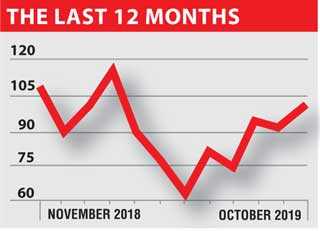 been since February.

Nielsen's Managing Director Sharang Pant explains in LMD: "Impacted by the Easter Sunday bombings, Sri Lanka's GDP recorded a growth rate of 1.6% – the lowest in 21 quarters. However, micro and macro indicators have steadily improved since then." He continues: "Annual inflation has remained below two percent, driven by deflation in food prices; the rupee depreciated by three percent, largely on account of a strengthening dollar; exports continued to grow and registered three percent growth in the year to date at 31 July; imports declined by 14%, thereby saving the exchequer foreign exchange; and tourist arrivals are fast returning to normal averages."

LMD reports that the economy and politics are among the major national concerns at this time, while taxes, policies and inflation are cited as prime concerns in business circles.

A spokesperson for the business magazine observes that "pre-poll positivity seems to have been sustained in October," adding that with the next monthly BCI survey scheduled to be conducted during the last stretch of the presidential election, the index will reflect the corporate mindset at the time.

She says: "We will have to wait until the New Year to know where the index is really heading."

Media Services, the publisher of LMD, says the latest edition of the magazine will be released to leading bookstores and supermarkets on 1 November (for the full BCI report, visit www.LMD.lk).