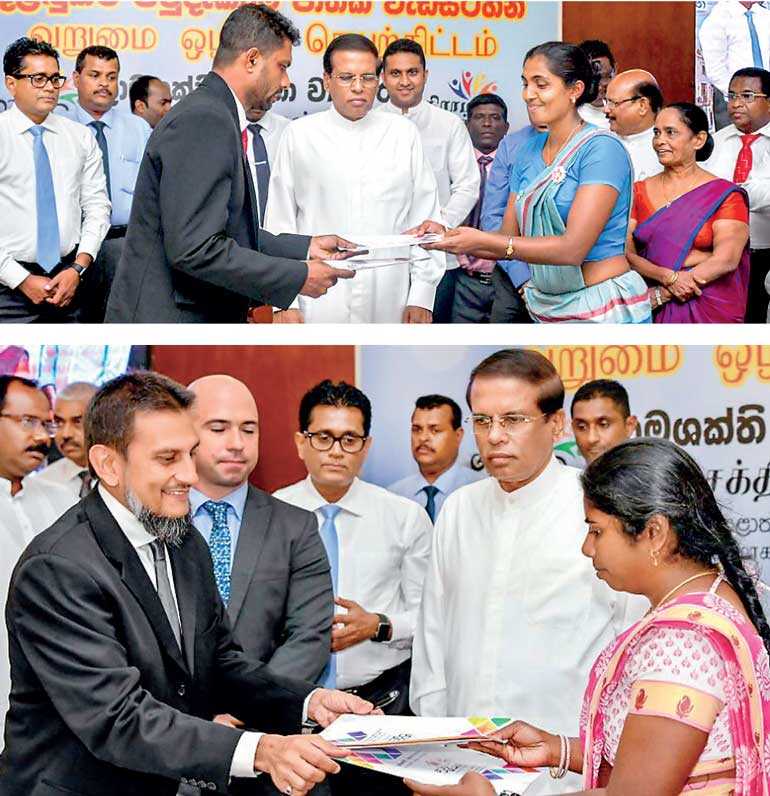 Several big private sector companies have partnered village level micro enterprises to boost agribusiness under the Government-promoted Grama Shakthi People's Movement.

It is a project implemented in accordance with a concept of President Maithripala Sirisena to show the path to the people to escape the trap of dependency and to achieve self-sufficiency in partnership with the private sector. This project is successfully operating at the Divisional Secretariat level targeting underprivileged people.

Three firms signed MoUs on Wednesday with President Sirisena serving as a witness.

One was a MoU between Matale Amban Ganga Vanilla Growers' Grama Shakthi Association Ltd. and the USA Fortune 1000 company McCormick's partner Adamjee Lukmanjee & Sons Ltd. and another was between Nuwara Eliya flower Growers' Grama Shakthi Association and Hayleys Plc. The other was between Grama Shakthi Association Ltd. and the Kyoto Coffee company.

Hayleys will provide high quality seeds, the necessary physical resources, knowledge to the suppliers and will issue a certificate confirming the purchase of their productions.

McCormick and Adamjee will help uplift the rural economy through their joint proposal for an Integrated Organic Agricultural Project in growing and curing vanilla in Sri Lanka. Farmer communities in Matale will be trained in growing, pollination, harvesting and vanilla curing methods. Vanilla is the second highest valued commercial crop in the world and the climatic condition and soil is the ideal platform for high quality vanilla plantation.

Kyoto Coffee specialises in high quality coffee manufacturing, especially the variety of Arabica or Mountain Coffee which they have found that Nuwara Eliya offers the ideal climate for. Currently they require this variety for export markets, particularly Japan, while local coffee restaurants are widely using their coffee for value-added menus.