---
The Bar Association of Sri Lanka (BASL) has requested the Attorney General to take action on an order issued by the Administrative Appeals Tribunal to reinstate suspended former Solicitor General Dilrukshi Dias Wickramasinghe before her retirement.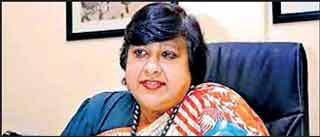 Dilrukshi Dias Wickramasinghe


Bar Association of Sri Lanka President Saliya Peiris PC stated this in a letter to Attorney General Sanjay Rajaratnam.

The Administrative Appeals Tribunal ruled that the former Solicitor General was innocent. The Bar Association of Sri Lanka pointed out in its letter that it was a constitutional responsibility to respect its decision as a statutory tribunal.

Dilrukshi Dias has been suspended following the release of an audio recording of a telephone conversation with Avant Garde Maritime Services Chairman Maj. Nissanka Senadhipathi.

A team of investigators from the University of Moratuwa had confirmed that the audio recording of the controversial telephone conversation had been edited and distorted on several occasions, and the Government Analyst had also confirmed this in a report.

Due to these reasons, the Administrative Appeals Tribunal on 22 July had directed the Public Service Commission to reinstate Wickramasinghe before her retirement date of 30 July.

It is reported that the Attorney General has not given permission to Dilrukshi Dias to report for duty as the relevant recommendations have not been submitted to the Attorney General by the Public Service Commission so far.