Rs. 6.9 b worth of applications submitted to CB; only those worth Rs. 2.6 b approved so far
Rs. 1.6 b lent to date under CB refinance scheme, Rs. 11 b outside
The country's biggest bank, the Bank of Ceylon (BOC), has lent Rs. 12.6 billion so far to COVID-19 distressed customers, whilst more support is pending regulatory approval.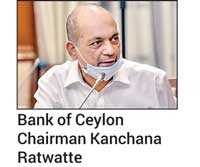 Daily FT learns that by Friday, the Central Bank had approved only applications worth Rs. 2.6 billion out of the Rs. 6.9 billion worth of applications submitted.

Following approval, BOC disbursed Rs. 1.6 billion worth of concessionary financing to COVID-19-hit small and medium-sized enterprises under the Central Bank refinancing scheme worth

Rs. 50 billion.

The BOC's quota was Rs. 7 billion.

The Central Bank-supported scheme is for lending at 4% to COVID-19 impacted companies wanting a maximum of Rs. 25 million to pay salaries, utility bills, and rents.

Outside the scheme, the BOC has lent Rs. 11 billion to other customers not qualifying for the CB-initiated scheme as working capital support, to tide over difficulties linked to the COVID-19 pandemic.