Appoints Nishan Sumanadeera-led Frontier Capital as Legal and Financial Consultant to restructure and restore confidence among foreign investors
---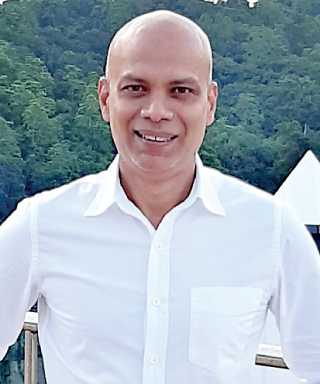 Frontier Capital Head Nishan Sumanadeera
---
Amidst ongoing negotiations between key Japanese and Malaysian investors of Sri Lanka's pioneering investment banking group, Asia Capital PLC (ACAP), the company has recently stepped in to appoint a legal and financial consultant to restore confidence among the investors.

The group's assets will undergo a prudent restructuring process in order to create more value for investors and the move is also anticipated to position Asia Capital Group's future direction.

Accordingly in an official letter Asia Capital PLC has appointed Frontier Capital Partners, a firm headed by renowned Investment Banker Nishan Sumanadeera, as the Legal and Financial Consultant to head restructuring and to restore confidence among foreign investors of Asia Capital PLC.

"We have appointed Nishan Sumanadeera to relook at our assets portfolio and we are confident that he will guide the future direction of the Asia Capital Group to add value and to drive innovation to the original investments made by the foreign investors in the company," Asia Capital PLC Executive Director Stefan Abeyesinhe said.

"We will also look at further diversification going forward as a group into new sectors. Financial services would be a main focus along with shipping, logistics and import substitution related industries," Abeyesinhe added.

Speaking on the appointment of Frontier Capital Partners Sumanadeera said he would relook at Asia Capital's best assets and financially re-engineer them to be the key revenue generating assets to sustain the balance sheet and would make sure foreign investor confidence would remain strong, robust and certain in Sri Lanka and especially in Asia Capital PLC.

Sumanadeera had already previously worked for Asia Capital PLC prior to his retirement from Sri Lanka's pioneering investment banking group in 2009 before the current senior management was appointed.

"The investors of this company have entrusted their confidence in me and Frontier Capital team's financial and legal guidance to make sure Asia Capital will be repositioned to the place it had during the golden days of investment banking in Sri Lanka, when Asia Capital was the house that raised the financial whiz kids of this country," Sumanadeera assured.

"As a progressive, visionary corporate entity, at Asia Capital we will focus our every effort on creating exceptional value for stakeholders, ensuring the foreign investment in Sri Lanka remains for the robust growth of our economy in these turbulent times to press ahead with confidence and move into the future," Sumanadera said, adding that their longstanding expertise, industry knowledge, diverse portfolio and unmatched skills would ensure ACAP remained relevant and competitive, enabling them to champion wealth creation for shareholders and customers through unmatched investment opportunities in leisure, project management, investment banking, advisory services, property management, real estate, asset management and information technology.

"We are always ready to add to our ever-expanding tapestry of spheres, aligned to our business strategies," Sumanadeera added.

Meanwhile in an official letter released to Colombo Stock Exchange (CSE) earlier Asia Capital PLC's Executive Director Stefan Abeyesinhe has clarified the contents of a media report published recently. In the letter Abeyesinhe points out: "While certain investors have expressed their concerns with respect to the Asia Leisure Sector, no details or particulars of any 'malpractices by senior management' (which are denied) were proved or substantiated."

He further notes that in fact two Japanese nationals representing the Japanese investors were and are on the Boards of Directors of ACAP and that currently there were discussions being carried on in an amicable manner with respect to some of the subsidiaries and associated companies of Asia Capital PLC.

Nishan Sumanadeera is renowned in Sri Lanka as the post-war era emerging investment banker turned Attorney and double qualified accountant and his company Frontier Capital Partners has transferred some of the country's prominent group companies to conglomeration in the post-war era from 2009 to 2019, in a decade.

Sumanadeera is a multifaceted professional with over 20 years of experience in investment banking, corporate law and accounting whilst he and his investment bank Frontier Capital Partners had been instrumental and facilitated the conglomeration conversion of three major companies – Lankem Group, LOLC Group and Softlogic Group – in post-war Sri Lanka from 2009-2013.

Frontier Capital Partners led by Sumanadeera and team in 2009 facilitated the C.W. Mackie sale for Lankem Group worth over Rs. 1.4 billion, in 2010 Confifi Hotel Group sale for LOLC and Browns Group worth Rs. 2.5 billion and in 2011 Softlogic Holdings' proposed acquisition of Asian Alliance Insurance worth over Rs. 3.3 billion and in 2013 a placement of 10% shareholdings of National Development Bank (NDB) for a consortium of investors including the Softlogic Group.

Asia Capital PLC started as a securities trading company in the early 1990s, specialising in stock brokering, and later expanded its business portfolio to encompass the larger share of the investment banking market in Sri Lanka.

As Asia Capital PLC (ACAP), the company ventured into diverse industries and sectors to fulfil the vision and become a powerhouse providing value-added investment opportunities and unmatched wealth creation services. Currently, operations consist of leisure, project management, investment banking, and advisory services.

Asia Capital also has a presence in property management, real estate, asset management and information technology services. Asia Capital PLC's 76% is owned by Malaysians whilst 16% is owned by Japanese investors.