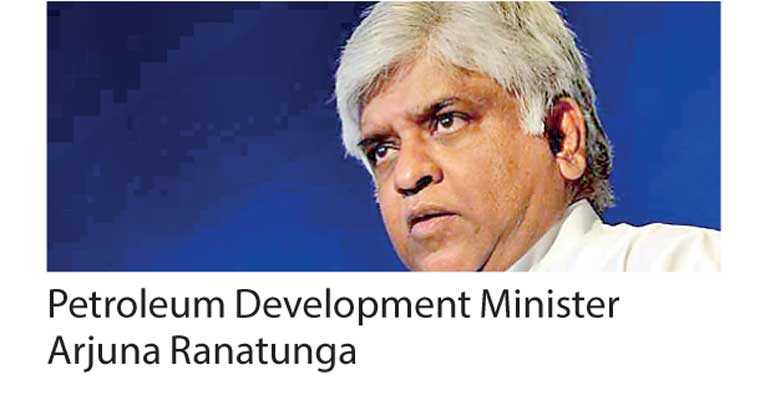 Insists high time to take a decision continuing CPC,
CPSTL as profit-making entities or as a social obligation
CPC Chairman affirms entity has progressed despite challenges
Petroleum Development Minister Arjuna Ranatunga yesterday said that the decision on increasing prices of fuel marketed by CPC lies in the hands of President and the Prime Minister.

"Increasing fuel prices has become the talk of the town these days. Finance Ministry officials are in discussion with our Ministry, but the decision of increasing the fuel prices of CPC is in the hands of the Government which includes the Cabinet of Ministers, Prime Minister and President," he said after meeting and greeting Ceylon Petroleum Storage Terminals Ltd. (CPSTL) staff for Sinhala and Tamil New Year. The Minister pointed out that successive governments had failed to take a decision on whether they want to run Ceylon Petroleum Cooperation (CPC) and CPSTL as profit-making entities or continue as a social obligation.

"It is high time that the Government takes a clear-cut decision on this matter," Ranatunga added.

CPC Chairman Dhammika Ranatunga said they had met many obligations within a short span of time despite the challenges faced. "Within the past 10 months we have been able to initiate, plan, execute and complete many projects that were in the pipeline for years."

Highlighting some of the achievements, he cited the installation of Aviation Fuel Filtration Unit which was neglected for 17 years following several recommendations by a Joint Inspection Group (JIG), which has helped to save $2 million for the country.

"Right now we are in the process of setting up an oil storage system in Kolonnawa where the first phase of the project has commenced. In addition, we are in the initial planning stage to setup seven more on the premises," he stressed.