Prohaska Consulting CEO and Principal Matt Prohaska is a 26-year media veteran and consulting executive to leading digital media and advertising technology firms and executives
---
Tracking 78% conversion rate from 617 campaigns over last year
Hope to create third-party data market, build ad-tech capability nation-wide
---
By Darshana Abayasingha
---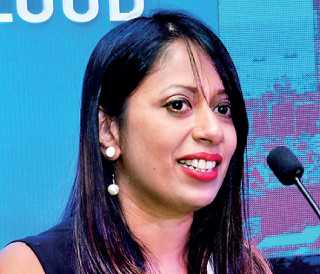 zMessenger and Digital X. CEO/Co-Founder Jayomi Lokuliyana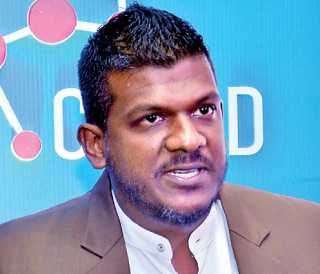 Ad Studio Head Naresh Sathasivam
---
Sri Lanka's pioneering programmatic agency, Ad Studio, hosted Programmatic Colombo last week – a deep dive into the optimal use of the automated platform and the future of marketing to engage, educate and empower local marketing professionals.  

Programmatic advertising is the automated process of buying and selling ad inventory in real-time through an online bidding system. It enables brands to buy ad impressions on publisher sites or apps seamlessly through a sophisticated ecosystem, becoming one of the most preferred ways of managing ad campaigns. 

Ad Studio took the lead with programmatic in Sri Lanka and has connected a number of local brands, advertisers, publishers and content creators with consumers on a real-time basis. The company offers a fully-empowered local supply-side platform allowing publishers to connect directly on the network without having to rely on Google or any foreign agencies. This gives increased monetisation, plus, retaining ad revenue within the country. Ad Studio also supports users to connect with ad networks internationally creating further value to publishers and advertisers equally.

"We successfully launched 617 campaigns last year, including programmatic campaigns. We have onboarded 312 publishers within the local network in English, Sinhala and Tamil and we are tracking at 78% conversion from all requests we have got. We work tirelessly to ensure the right publishers are with us. Across the 312 publishers we have 2,219 assets and ad slots that are available for us to advertise through. We have managed to profile almost one million unique unified profiles for us to market through and generated over 500 million impressions over the campaigns we launched last year," said Ad Studio Head Naresh Sathasivam.

A premier advertising technology company, Ad Studio specialises in programmatic advertising, customer data profiling, digital PR and user enrichment. Customer Data Platforms (CDP) are at the core of customer narratives across B2C enterprises today. 

The fully-automated and artificial intelligence powered Ad Studio CDP helps brands use first party data effectively, securely and seamlessly enabling them to enhance unified customer views to personalised one-to-one marketing campaigns with scale and reach delivering exponential business value like never seen below. For publishers, CDPs enhance value creation through the quality of profiles, giving them access to target the right ad to the right person all on real-time basis. 

"From mainstream to niche publishers, to unique content categories in all three languages, we are actively onboarding new publishers on a daily basis increasing our value. Highlighting one success story is a publisher from the entertainment category who started off with Ad Studio earning less than Rs. 1,000 a month and went on to grow to almost Rs. 250,000," Sathasivam added.

Emphasising the company's vision, he said Ad Studio was looking to expand its programmatic eco system to exchanges internationally, extending the connected television and out-of-home advertising concepts which are new to Sri Lanka. In addition to enhancing its CDP capabilities, Ad Studio also hopes to create a third-party data market in Sri Lanka and build ad-tech capability nation-wide. This will also enable the company to onboard SMEs and individual direct advertisers as well.   Sathasivam told the Daily FT that whilst acceptance and adaptation of 'modern-day advertising technology' (AdTech) from all stakeholders in Sri Lanka will present a slight challenge, there is confidence in generating reach. 

"We are seeing a growth of 12%-15% on a month-on-month basis from the SSP side and 8%-10% on the DSP side. This indicates positively on the shift to adapting programmatic as an effective method in overall digital advertising strategies. Stakeholders are showing more importance to ROI through programmatic advertising."

He added that in the global arena, especially in the US and India, programmatic advertising has taken over about 80% and 30% of content respectively. Ad Studio has contributed to the rise in AdTech industry in Sri Lanka and have clients from over 15 leading industries and a strong partnership with publishers. 

Ad Studio TV, which is its video advertising platform and shaping digital video is predominantly the future of TV, it stated. The solution enables media owners to monetise content across all streams and screens, whilst providing advertisers with direct access and brand-safe premium inventory. 

"We have evolved to ad tech experts in the country. In data science and engineering we have acquired vast knowledge of the ad tech domain. We have consultants who fly in and we have also gone out to acquire more knowledge on programmatic and on the entire eco system of programmatic. We are the first to introduce this technology to Sri Lanka and all stakeholders from publishers to advertisers have appreciated AdStudio for taking the lead in introducing programmatic advertising to Sri Lanka," Sathasivam said. 

The Guest Speaker at the event was Matt Prohaska, CEO of Prohaska Consulting which won the award for the best Programmatic Consultancy in 2019 and former Programmatic Director at the New York Times, who touched on the optimal use of programmatic marketing.

"Three ways we would suggest to think about organising yourselves and companies when taking advantage of programmatic practices is your targets, your audience data and then your talent. One thing we have learnt when working with clients all around the world is that no matter what stage the organisation is in, the technology and the targets are actually the easiest to get organised. It is often the talent – the human beings or us – that is often the hardest to change. Because, we have had decades of habits and ways of doing things which we are very comfortable with and this is prevalent across almost every sector. 

"Hopefully, what you would also take out is that the advantages of learning more about programmatic can enhance your career and improve your job. There is a misperception that people will lose jobs as programmatic cultures take place. That is a fear that we have encountered country after country. Every single market has had this concern, but this is not the case," said Prohaska addressing the audience online.
---
Pix by Sameera Wijesinghe
---