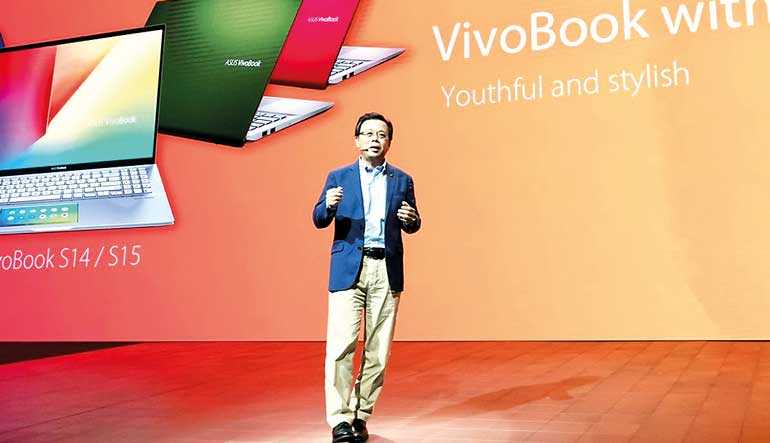 ASUS Co-CEO Samson Hu
---
ASUS celebrates 30-year anniversary
Introduced six new products at Computex 2019


Shevanka Kurumbalapitiya Reporting from Taiwan

ASUS introduced the very first ScreenPad Plus, a 14-inch secondary display positioned above the keyboard of the new ASUS ZenBook Pro Duo, at the special press event held on 27 May at Computex 2019, in celebration of its 30th anniversary in the industry.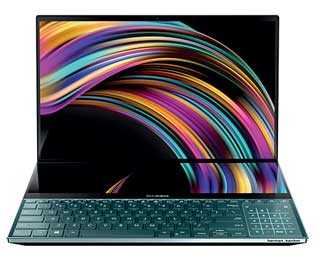 The newly-launched ZenBook Pro Duo with ScreenPad Plus


At Computex 2018, ASUS introduced the ScreenPad, the very first of its kind in the market, which is a touchscreen mousepad, used to provide additional features for the users to assist in multitasking and productivity.
This year, ASUS took not one, but two steps forward, by introducing the ScreenPad Plus, which is the key feature of the ZenBook Pro Duo and ZenBook Duo, and also the ScreenPad 2.0, which provides a larger display, enhanced productivity and upgraded experience than the original ScreenPad, for the new ZenBook and VivoBook series.

For the ZenBook Pro Duo, which has a 15.6-inch 4K UHD OLED HDR display, its ScreenPad Plus is a 14-inch 4K display, while the ZenBook Duo with a 14-inch FHD display has the ScreenPad Plus with a 12.6-inch FHD display, thus providing users with a secondary touchscreen, with the same display features as the main screen.

The ScreenPad Plus offers multiple uses, such as the ability to expand the view from the main screen down to the secondary screen, operate separate applications on both screens, with the ability to hold up to three different applications on the secondary screen. It even comes with a stylus to assist in various everyday uses.

Introducing the feature, ASUS Co-CEO Samson Hu said: "It's an intelligent secondary display bringing you a whole new experience with its big full-width 14-inch display. Now you can enjoy a real immersive dual-screen experience."

The ZenBook Pro Duo features a 4K UHD (3840 x 2160) OLED touchscreen for breath-taking visuals, a 4K (3840 x 1100) ScreenPad Plus and an ASUS NumberPad dual-function touchpad, which acts as a mousepad and virtual numberpad. The display is a frameless four-sided ASUS NanoEdge design, with ultra-slim bezels for immersive visuals and an ultra-compact form factor.

The ZenBook Pro Duo provides up to 9th Generation Intel Core processors, combined with up to 32GB RAM and an NVIDIA GeForce RTX 2060 GPU, with ultrafast storage provided by up to a 1 TB PCIe 3.0 x4 SSD.

Even with the combination of all these innovative features, it was the ScreenPad Plus that truly impressed the audience, as it is a brand-new feature which takes the general appearance of a laptop to a new level.

ASUS also introduced a 14-inch ultraportable variant, ZenBook Duo (UX481), featuring a frameless four-sided NanoEdge FHD display and an FHD ScreenPad Plus. It's powered by up to an Intel Core i7 processor and a GeForce MX250 GPU.

In commemoration of its 30 years in the industry, ASUS also launched a special-edition line-up featuring new versions of the ZenFone 6 Edition 30 smartphone, ZenBook Edition 30 laptop, and Prime X299 Edition 30 motherboard, all bearing a special 'A' monogram as its 30-year commemorative logo.

In relation to its 30th anniversary, ASUS Chairman Jonney Shih said: "ASUS is honoured to have been serving the hard-core tech community, enthusiast, gamers, creators, and tasteful consumers for the last 30 years. I am tremendously excited and proud that we have stayed true to our relentless engineering origin on this incredible journey – one that has made us wiser and stronger together. We aspire to continue to create the most ubiquitous, intelligent, heartfelt, and joyful smart life for everyone for decades to come."

Speaking at the event, Intel Client Computing Vice President Chris Walker said: "Intel and ASUS share a strong passion for innovation. We congratulate ASUS on their 30-year anniversary. In that time, our collaborations have brought to market devices that enrich the experiences of people around the world. Today, ASUS is leveraging the desktop-calibre performance of 9th Gen Intel Core mobile processors. The new, exciting ASUS ZenBook Pro Duo with the companion display, embodies the true meaning of pushing boundaries for PC function and design and is a great example of the innovation our collaboration enables."

Along with these products, ASUS also launched the ZenBook 13/14/15 series, the VivoBook S14/S15 series, the ZenScreen Touch as well as the AMD X570 series motherboards.

The newly-launched products will be on display at the ASUS booth at Computex 2019 at the Nangang Exhibition Centre, Taipei, Taiwan from 28 May to 1 June and will be available in the market on 3 June and in Sri Lanka in the near months to come.