Permanent High Court at Bar allows extradition request following AG Dept. submissions
Extradition request dossier contains 21,000 pages
Includes certified copies and witness statements pertaining to bond scam
Foreign Ministry to take up request with Singapore shortly
Mahendran indicted on 10 counts on bond scam but has repeatedly ignored summons to appear in court
By Chandani Kirinde

The Attorney General's Department yesterday tendered a dossier pertaining to the extradition request for Arjuna Mahendran to the Ministry of Foreign Affairs to be forwarded to the Government of Singapore.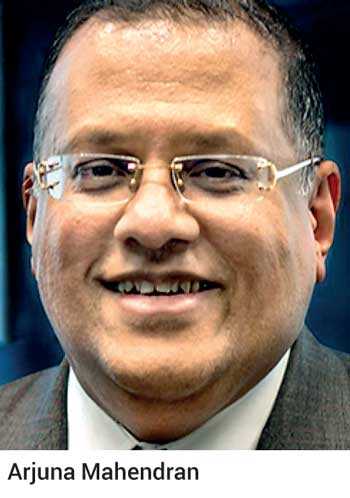 The dossier containing 21,000 pages inclusive of certified copies pertaining to the case, statements of witnesses was also submitted to the Ministry of Defence to assist with processing the extradition request, an official of the AG's Department said.

The MFA will take measures to submit the request shortly. Mahendran, who is the former Governor of the Central Bank under whose tenure the bond scam took place, has been absconding since he was named a suspect in the case. Indictments were filed against Mahendran and nine others before the Permanent High Court at Bar in June this year with Mahendran and another suspect absconding by being way from the country.

The High Court at Bar allowed the AG's Department to proceed with the extradition request after it filed an affidavit in court explaining the reasons as to why a warrant should be issued against the Mahendran, who is the first accused in the case.

After the warrant was obtained from the Permanent High Court at Bar, the AG's Department compiled the dossier seeking the extradition request of the former CB Governor from Singapore so as to ensure he was present at the bond scam trial, AG Co-Ordinating Secretary Nishara Jayaratne said.

The extradition request was handled by Additional Solicitor Generals (ASG) Parinda Ranasinghe PC.