---
World's biggest lines MSC and Maersk suspend container shipping to and from Russia, deepening country's isolation
Tea exporters to Russia worry over prospects
---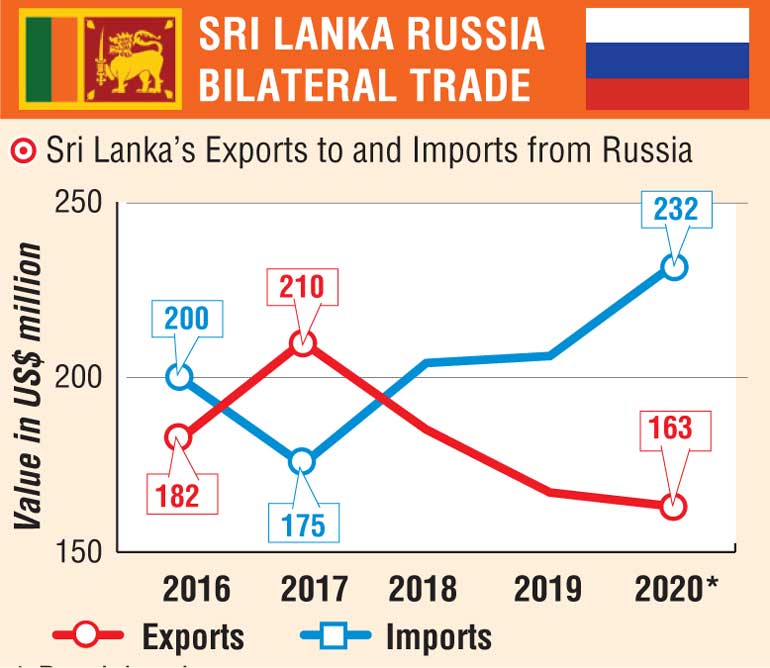 Sri Lanka's trade with two warring nations Russia and Ukraine, especially tea exports, are at stake with major shipping lines yesterday announcing cancellation of services.

Lankan tea exporters were concerned with the suspension of services to Russia, a key market.

Sri Lanka's exports in 2020 to Russia amounted to $ 163 million or 1.6% of the total but tea exports amounted most of it at $ 132 million. Russia is also a key import source with $ 232 million in 2020.

Tea exports to Ukraine were $ 24 million in 2020 out of total exports of $ 29 million. Imports from Ukraine amounted to $ 76 million.

The world's three biggest container lines on Tuesday temporarily suspended cargo shipments to and from Russia in response to Western sanctions on Moscow following its invasion of Ukraine, in a further blow to trade with the country.

Russia's assault on its neighbour, which Moscow says is a "special operation", is the biggest state-to-state invasion in Europe since World War Two.

Swiss-headquartered MSC, the world's biggest container shipping company by capacity, said in a customer advisory that as of March 1 it had introduced "a temporary stoppage on all cargo bookings to/from Russia, covering all access areas including Baltics, Black Sea and Far East Russia".

"MSC will continue to accept and screen bookings for delivery of essential goods such as food, medical equipment and humanitarian goods," it said.

Denmark's Maersk, which is the second biggest carrier after MSC, said separately it would temporarily halt all container shipping to and from Russia, also adding that the suspension covering all Russian ports, would not include foodstuffs, medical and humanitarian supplies.

"As the stability and safety of our operations is already being directly and indirectly impacted by sanctions, new Maersk bookings within ocean and inland to and from Russia will be temporarily suspended," the company said in a statement.

Maersk owns 31% of Russian port operator Global Ports (GLPRq.L), which runs six terminals in Russia and two in Finland. Global Ports' shareholders also include Russian state nuclear company Rosatom and Russian businessman Sergey Shiskarev.

France's CMA CGM, the world's third-biggest container line, later on Tuesday announced it had suspended all bookings to and from Russia until further notice, citing safety concerns.

The moves follow similar decisions already taken by Singapore-headquartered Ocean Network Express and Germany's Hapag Lloyd - effectively cutting Russia off from the world's leading container shipping companies, adding to freight challenges ahead.

The West has imposed heavy restrictions on Russia to close off its economy and block it from the global financial system, pushing companies to halt sales, cut ties and dump tens of billions of dollars' worth of investments.

The curbs have made Russia a no-go area for many of the world's foreign-owned container ships, closed airspace to Russian aircraft, shut out some Russian banks from the SWIFT global financial network, and restricted Moscow's ability to use its $ 630 billion in foreign reserves.

Reuters said Visa Inc. and Mastercard Inc have blocked multiple Russian financial institutions from their network.

In response to the exodus, Russia's prime minister said the country would impose temporary curbs on foreign investors seeking to exit Russian assets to ensure they take a decision not driven by political pressure. He did not give details.

Russia calls its actions in Ukraine a "special operation" that it says is not designed to occupy territory but to destroy its southern neighbour's military capabilities and capture what it regards as dangerous nationalists.