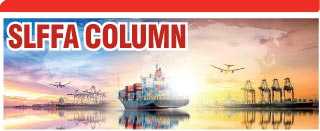 The COVID-19 global pandemic created an unprecedented time for the world, and it undoubtedly pushed everyone to embrace new ways of performing a multitude of personal and professional tasks. Continued facilitation of essential mobility with the aim of safeguarding world economies and minimising adverse effects on livelihoods and businesses was a critical theme that had to be addressed.

Supply chains faced a significantly transformational phase due to the necessity for greater agility. Interestingly, the prior perception of supply chains as a support activity was rapidly replaced by the understanding that these are a major strategic focus on ensuring the survival of businesses and economies. The distribution and supply of COVID-19 vaccinations and the resulting complex cold chain requirements were one of the most defining issues for supply chains as, according to McKinsey, in excess of 12 billion doses have been announced for release in 2021 alone. Therefore, global logistics providers must push beyond the traditional models and theories of the field in order to ensure timely distribution and supply.

Thus, in order to ensure the sustainability of supply chains and the resulting mobility, which are important pre-requisites for businesses and economies to thrive, it is necessary to adopt apt and timely 3PL (Third Party Logistics) trends, which will undoubtedly transform the global supply chain landscape in response to the 'new normal' as dictated by the pandemic.


Seeking the expertise of 3PL specialists

The present focus of many organisations are their core competencies rather than their logistics capabilities, as this assists their proactive and timely approach in crisis situations. As a result, the demand component for 3PL is expanding. Utilising 3PL, and outsourcing logistics and shipping functions enable organisations of all sizes to shift their focus on the critical aspects of their business activities, particularly in the challenging and volatile post-pandemic environment. The most valued functions among 3PL providers include implementation of new technologies, strong focus on order fulfilment efficiency, and last mile management among other factors.


Shorter lead times and increased focus on last mile logistics

E-commerce has faced significant growth as organisations and consumers alike have sought new channels to trade products and services, as well as adjust their business models. Supporting e-commerce are robust 3PL and technological advances which play vital roles. Due to increased personalisation requirements and quicker delivery timelines (such as increased uptake of 'next day delivery' options), lead times are correspondingly shrinking. Supply chains therefore face pressure to increase speed and efficiency. Whilst many organisations utilise a single supply chain for all products, the changing landscape dictates that they may have to consider developing multiple supply chains to accommodate shortening lead time requirements and remain competitive.


Transparency and real-time visibility

The complexity of supply chains, coupled with the plethora of suppliers delivering goods from all over the globe, has also resulted in their vulnerability to a multitude of varied risks, including poor management and lack of visibility. It is in this context that visibility and transparency of the supply chain is a key attribute and is particularly critical in crisis situations.


Internet of Things (IoT) to improve visibility and transparency

Data is key, and organisations have embraced the need for data gathering and analysis across their operations, including supply chains. The technology of Internet of Things (IoT) enables the use of sensors to be installed on vehicles, warehouses, customer points and other areas to enable data gathering and the provision of necessary data to improve visibility and transparency in the movement of goods, production, inventory management and predictive maintenance. For Sri Lanka, IoT is particularly significant in the areas of temperature monitoring, space resource optimisation and accident prevention in the warehousing and transportation areas of logistics.


Supply chain resilience (nimble logistics)

In modern supply chains which are broader based, a lean process is not sufficient on its own. Supply chains must be flexible and responsive to external influences. The pandemic has seen the increased adoption of elastic or nimble logistics, an approach that allows organisations to easily expand or downsize to accommodate demands and complexities posed by the environment.


Robotics and automation in logistics and supply chain management

The adoption of robotics and automation in warehousing has increased exponentially. There are many tangible benefits to robotised logistics, such as workforce adaptability, an increased safety component, significant reduction in human errors, and increases in speed and efficiency, all of which result in enhanced efficiencies, reduced costs and optimised profits. As stated in the Inbound Logistics Magazine, it is estimated that the global market for warehouse robotisation in supply chains is projected to reach a market value of $ 22.4 billion by the end of 2021. Drones and driverless vehicles are seen increasing use in streamlining logistics operations, and executives expect to see drones taking over the delivery of smaller packages, coupled with the advances seen in self-driving vehicles. While Sri Lanka is unlikely to experience full-blown robotics to this degree, collaborative and semi-robotisation of certain activities, such as process automation to minimise duplication of work, are likely changes.


The advent of Blockchain

Blockchain is a new technology that is used globally to increase the transparency of supply chains but has yet to see implementation in Sri Lanka. Blockchain technology enhances the transparency of the entire supply chain with the aim of minimising disruptions and improving service levels. Coupled with sensor technology and secure cloud storage of data, it can provide secure, real-time and tamper-proof insights on the performance of supply chains.


Embracing 3PL trends is the future

Considering the post-COVID-19 business climate, it is apt that logistics service providers embrace the latest 3PL trends to ensure their survival and thrive in the new normal. It is predicted by industry specialists that businesses will increasingly adopt Supply Chain as a Service (SCaaS) in the future, followed by the outsourcing of manufacturing, procurement, quality assurance, inventory management, demand planning and other non-core activities to one supply chain provider or 4PL partner. That, in essence will be the future of logistics and support industry 4.0.