Development Strategies and International Trade Minister Malik Samarawickrama on Friday described the 2018 Budget as the best iteration of the country's annual financial policy statement since former President J.R. Jayewardene's 1977 Budget.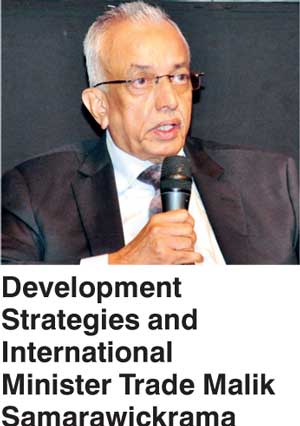 "The 2018 Budget is one of the most progressive private sector-friendly budgets since the one unveiled by President J.R. Jayewardene in 1977," declared Minister Samarawickrama.


"After 40 years we have a Budget that is very favourable to the private sector that is export-oriented. So it is up to the private sector to lead the development process of our country. The Government has done its best by setting the ground rules. It is up to the private sector to take the challenge and move forward," emphasised the Minister.



At the E&Y (Ernst and Young) Forum he recalled that in 1977 he was an employee of Shaw Wallace and after then President Jayewardene's Budget he promptly left the company and started his own business by taking up the challenge.


"I wish I was 40 years younger but it is up to the younger generation of Sri Lanka to harness the opportunities offered via 2018 Budget and enter into entrepreneurship and also the private sector to seize the opportunity," Minister Samarawickrama added.