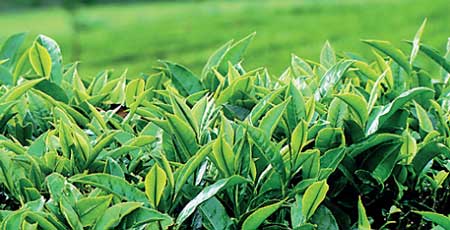 Last year tea production up only 5% against 2016 but lowest since 2009
Low growns up 7% but lowest since 2011
High grown tea crashes to lowest production since 1992
Tea production in 2017 was at 307 Mnkg, up only 5% when compared with the previous year's drought-affected figure of 292 Mnkg, brokers said yesterday but recovering marginally from the seven year low hit in 2016.

Production in December fell by 13.5 percent from a year earlier, the board's data showed

Asia Siyaka Commodities Plc, quoting Tea Board data, said the 2017 figure of 307 Mnkg was the lowest since 2009 when total production crashed to 291 Mnkg. A collapse of the market in Q4 2008 following the global banking crisis and draft in 2009 restricted production.
"2017 crop losses were caused by a combination of circumstances; though the weather pattern did not settle after the previous year's El-Nino condition.

Normal agricultural practices were disrupted by the banning of the only cost-effective weedicide in the market and higher cost of fertiliser," Asia Siyaka added.

"If weather holds, Sri Lanka could reach 320 million kilos (of production) in 2018."

Tea output in 2016 dropped 11.1%, in its third straight yearly decline. Tea export volume dropped to a 14-year low in 2016, broker data showed.

Export earnings fell 5.3% to $1.26 billion in 2016 from $1.33 billion in 2015. Sri Lanka recorded its highest earnings of $1.63 billion in 2014.

Low Grown production of 197.1 Mnkg is up 7% on the low 2016 figure of 183.6 Mnkg. However, it is the first time since 2011 that production has dropped below 200 Mnkg.

The High Grown figure of 64.3 Mnkg is the lowest since 1992 when production crashed to 53.7 Mnkg following a severe drought. The quantity is even lower than the 2016 drought-affected figure of 64.4 Mnkg. Production from this elevation has been in the region of 73-75 Mnkg in the previous five years.

Mediums at 45.5 Mnkg are marginally ahead of the 2016 quantity of 44.5 Mnkg. Over the past five years production of the elevation has been in the region of 49-56 Mnkg.