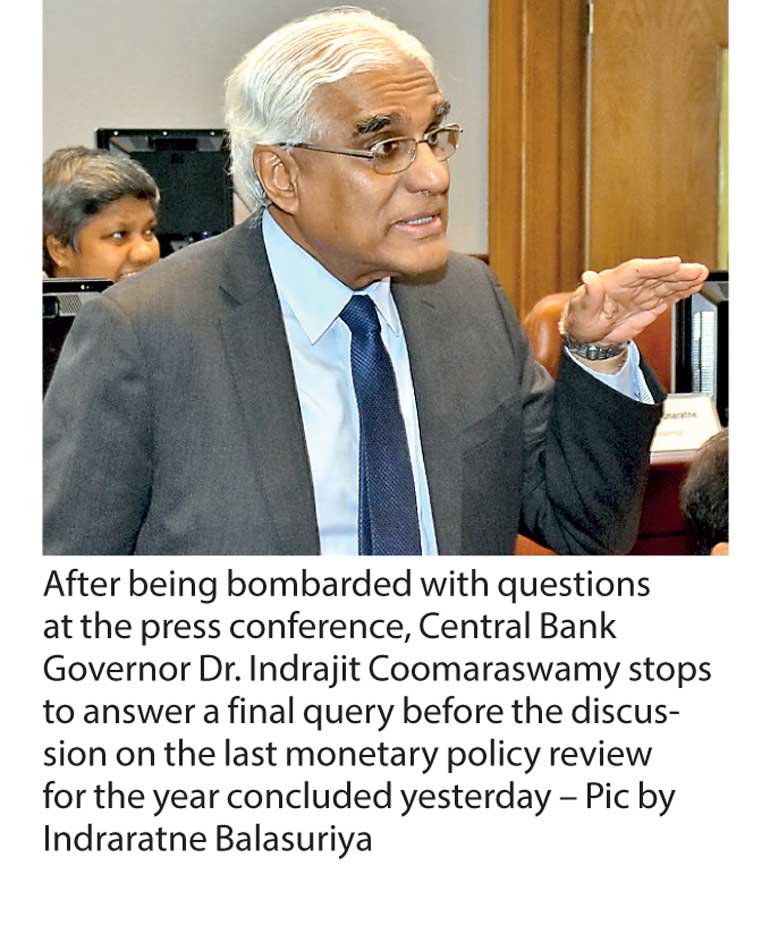 Ratings outlook improved, broad money growth, inflation down, credit growth dips to 15%
Investor inflows to securities and stock market good, tightening cycle may end, interest rates to ease
Since the 1950s surplus in primary account, first time since 1987 surplus in current account
Reserves to end year at $ 7.8 b, FDI expected, CB likely to go to bond market in early 2018
Growth likely to be less than 4% for year, CB Governor admits growth "disappointing"
Calls for Census Dept. to be given more resources, expects inflation to decline
By Uditha Jayasinghe

After weathering a rocky year, the Central Bank was cautiously optimistic of Sri Lanka's prospects yesterday, insisting economic stability had been reached with investor confidence increasing but acknowledging that fiscal consolidation needed to continue for growth, which is expected to be less than 4% in 2017, and investment to improve.

Central Bank Governor Dr. Indrajit Coomaraswamy was circumspect while discussing the last monetary policy review with reporters, conceding that Sri Lanka still needs to emerge from the basket of countries with twin deficits to record strong growth. The Monetary Board decided to keep rates unchanged and has indicated the tightening cycle may be at an end, provided the weather and investment improved in 2018.

"This is the beginning of the journey. I don't want to say that we have cracked it but we are making progress. We need to get growth up. But you don't get growth up by artificially stimulating it by introducing inappropriate macroeconomic policies. You have to get growth up through economic reform. The reforms that have been started need to be persisted with so they will bear fruition in due course," the Governor said.

Economic stabilisation has been endorsed by the International Monetary Fund (IMF) Executive Board, which approved the third review of the Extended Fund Facility (EFF) earlier this year and released the relevant tranche, Dr. Coomaraswamy noted. Rating agencies Fitch and S&P upgraded Sri Lanka's rankings by taking off the "negative" outlook.

"In addition we have seen money continuing to flow into the Government securities account, money has come into the stock market, the Hambantota Port money has come in, the international sovereign bond issued by Sri Lanka in May at a cost of 620 basis points is now trading tighter at 550 basis points. All this means there is a degree of confidence in the Sri Lankan economy and it is improving. This is also an endorsement of the fiscal consolidation process."

Domestically, on the positive side broad money growth that was around 20% has reduced to 7.2%. Private sector credit growth has slid to 15% from a high of about 24% but while overall private sector credit growth reduced, credit to agriculture is at 22.4% and industry 20.8%. Dr. Coomaraswamy highlighted that this was a "heartening" sign that the real economy has continued to have growth.

2017...

However, credit to services has slowed down, which the Central Bank summarised could be because borrowing by leasing companies to import vehicles had dipped significantly in 2017. Despite the overall reduction in credit, household borrowing remains high, putting Sri Lanka in line with other countries with high consumption levels.

Nonetheless, imports were persistently high but in October the trend reversed recording a trade surplus. Overall the trade deficit will increase for 2017 but an adjustment on the import side is evident, the Governor noted. Since interest rates of Government securities are reducing, it is likely that this will spill over into bank lending and deposit rates, providing a mild respite from current high interest rates, even though the Central Bank has not changed policy rates since May.

"For the first time since the 1950s we are going to have a surplus in the primary account and for the first time since 1987 a surplus in the current account. So these are clearly improvements in the structural deficit of the Budget, which has traditionally been the main source of instability within the system. The rupee has depreciated only 1.9%, and is also a reflection of the confidence in the economy. Our reserves are above $ 8.1 billion but we are likely to end the year at $ 7.8 billion because of a couple of payments."

Reserves will continue to be boosted by the Central Bank, which is purchasing about $ 200 million per month, the remaining payments from the Hambantota Port and an international sovereign bond next year. Dr. Coomaraswamy declined to give details on how much would be raised but disclosed that he plans to go to the market as early as possible as the inflow of funds reduced the burden on the financial system. During an earlier press conference, the Governor said the Central Bank was keen to release the bond during the first quarter of 2018.

"I don't want to overstate these things because there is a lot more to do but there are clear signs that the economy is stabilising."

Not all is well, however, with the Governor admitting he remained "concerned" over growth and 3.3% growth recorded in the third quarter was described as "very disappointing."

"This year we are going to end up, at best, at 4%. It is going to be less than that if we are to be honest. That was less than we expected and clearly the weather has had a major impact. Even though agriculture is only about 7% of GDP, the food processing sector accounts for about 20% of the industrial sector, so if you take agriculture and agri-based industries together, that's close to about 20% of GDP," he said.

Yet the number may be lower than the true picture, he argued. The Governor praised efforts by the Census and Statistics Department to introduce a new framework for calculating GDP but pointed out that it required more surveys, which the department had insufficient resources to compile at present.

"You need a lot of data to back up this welcome framework so this has caused some concern from our side and we are consulting with them. They have extremely competent people and this is a good system but we all need to work together. Since they don't have all the data needed, they have to use proxies for certain economic subsectors, which may not capture all economic activity. The department needs to be given the resources to work well."

Moving on to inflation, the Governor said it was trending down and by the end of the first quarter of 2018 would be within the target rate of mid-single digits. The Monetary Board will continue to monitor trends with a special focus on headline inflation as it could lead to wage pressure. Sri Lanka has historically been a high inflation economy and a transition to a low inflation economy would mean that inflation expectations have to be anchored. For this the Governor insisted monetary policy formulation should have credibility and be proactive. To this end the Central Bank will continue with its flexible inflation targeting regime, which it announced earlier this year.