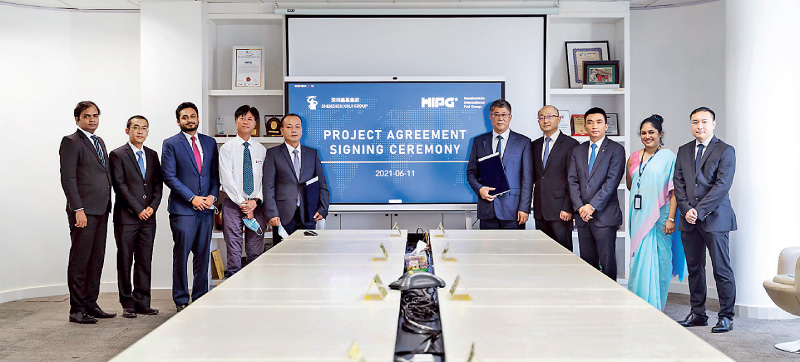 From left: Xinji CFO Tharindu Damith, Xinji Administration Manager Jasper Jia, Xinji General Manager Dr. Mahasen Ranagala, Xinji Senior Consultant Gao Feng, Xinji Chairman Yang Lin, HIPG CEO Johnson Liu, HIPG CFO Raymond Mu, HIPG Senior General Manager – Port Investment Services, Legal and Corporate Affairs Tim Xiao, Manager Legal Deshani Koralage and Port Investment Services Manager Barry Fan
---
The Hambantota International Port Group (HIPG) has partnered with Shenzhen Xinji Group to set up a plug and play 'Park in Park' manufacturing facility within the port's industrial zone.

The concept is a fully-fledged standalone industrial facility with some very unique features, set to operate within the Hambantota International Port's Industrial Zone.

The signing of the Joint Venture agreement between the Xinji Group and HIPG took place on 11 June at Hambantota Maritime Centre with key officials of both organisations in attendance.



HIPG Chief Executive Officer Johnson Liu said the new venture would be in line with HIP's master plan of the port.

"The Shenzhen Xinji Group's offering will position both the industrial park and Sri Lanka as an attractive destination for manufacturers who do not wish to go through the hassle of setting up factories but would rather use readymade services and hit the ground running, with no delays in production," he added.

"This concept is unique because ours is a plug and play formula, where all the facilities for an investor are supplied by us, right down to clearing red tape, infrastructure hurdles and even human resources needed for a smooth-running business. It would be a great plus for light industry manufacturers and traders who wish to come and set up in Sri Lanka with a view to finding markets in South Asia," said Yang Lin, Chairman of Shenzhen Xinji Group, which has been operating in Sri Lanka in both construction and manufacturing since 2013.

The new facility will be built on a 9,000 square metre area within the industrial zone, and the 'Park in Park' model will be attractive to investors as it would reduce investment costs.

Potential investors would be able to avail themselves of direct 'check in' services, which will help speed up the production time. The base infrastructure provided by Xinji would be a boon to enterprises entering the park as economic benefits to them would be many.

The $ 16 million high tech industrial facility will provide a 'one-stop' services for light industries. Xinji's experience in auxiliary material procurement and trade sales will provide procurement support for upstream enterprises and sales support for downstream enterprises in the park.

"This facility will guarantee technology transfer to Sri Lanka and ensure that locals will be trained and skilled for employment in the factories that will be set up. The facility will also ensure downstream benefits to other Sri Lankan companies as the industries operating within the park will be encouraged to use Sri Lankan raw materials and services like printing and packaging," Xinji Group General Manager Dr. Mahasen Ranagala said.

The project will promote the production and manufacturing of household electric and electronic appliances. Industries operating within the plug and play 'Park in Park' facility will have the added benefits of the Industrial zone's free port policy and free trade agreement, enabling them to provide quality products to Sri Lanka and surrounding countries.

"Several manufacturing enterprises are already being set up in the Hambantota Port Industrial Park. We have also been successful in inviting a number of Government agencies, banks, shipping, logistics and other enterprises to establish within the zone. With all these in place and cooperation from the Board of Investment (BOI), HIPG is confident of providing one-stop consulting and registration services, door-to-door financial services, and product logistics services for all enterprises entering the park," said HIPG Senior General Manager – Port Investment Services, Legal and Corporate Affairs Tim Xiao.