Offshore yuan hits 4-year low vs. dollar
Asia FX on track for annual loss, seen staying weak
Ringgit and rupiah worst performers

SINGAPORE (Reuters): Most emerging Asian currencies were steady to lower on Wednesday, pressured by a weaker Chinese yuan, and more declines are seen likely next year given prospects for the US Federal Reserve to raise interest rates further.

The yuan weakened against the dollar in both onshore and offshore markets after China's central bank set a softer mid-point in the wake of dollar strength. The offshore yuan hit a four-year low of 6.6090 as of 0721 GMT, the weakest since September 2011. The Singapore dollar eased, pressured by the yuan's decline.

The Singapore dollar can be affected by the yuan's moves, as traders and analysts believe the Chinese unit to be a part of the undisclosed, trade-weighted currency basket used by the Monetary Authority of Singapore to manage monetary policy.

Annual losses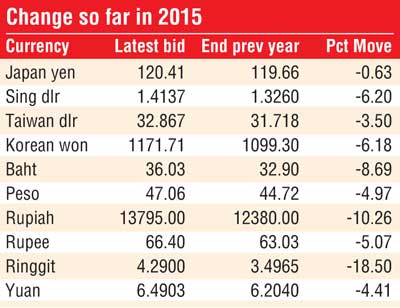 Emerging Asian currencies are on track for annual losses in 2015, with the Malaysian ringgit the worst-performing currency, followed by the Indonesian rupiah.

Although most Asian currencies have been relatively stable since the Fed raised interest rates on 16 December for the first time in nearly a decade, they are seen likely to come under pressure again in 2016.

"I think this stronger dollar story will continue to apply to dollar/Asia," said Sim Moh Siong, FX strategist for Bank of Singapore.

"I think what's going to bring dollar/Asia higher into the second half of next year is the continued concerns over the China growth story and how that will impact on the Chinese currency," Sim said.

A depreciation in the Chinese yuan could reduce the trade competitiveness of other Asian countries, and analysts say Asian countries may become less inclined to strongly resist weakness in their own currencies if the yuan weakens.

Ringgit

The Malaysian ringgit has shed 18.5% this year, putting it on track to be the worst-performing emerging Asian currency in 2015.

The ringgit has taken a hit from a slide in oil prices, which raised concerns over Malaysia's falling gas and oil revenues.

Political uncertainties over a graft scandal linked to Prime Minister Najib Razak and indebted state fund 1Malaysia Development Berhad (1MDB) have also dented the ringgit. Najib, chairman of 1MDB's advisory board, has denied any wrongdoing. Some analysts say that such domestic factors have been largely factored in, and that the ringgit may be undervalued after this year's selloff.

The ringgit, however, is seen as facing continued headwinds from weak oil prices. The potential for more capital outflows is also seen as a risk factor for the ringgit, given the large foreign ownership of Malaysian government bonds.